Below you will find important information if you are travelling with children or you have a child who is travelling alone. It can be helpful to know that, when you book a flight for a child travelling alone, you should indicate this when you book since there are a limited number of seats available on each flight for children flying unaccompanied.
Below are a few concrete tips and some advice if you are travelling with children – all in order to make your trip with children as comfortable as possible.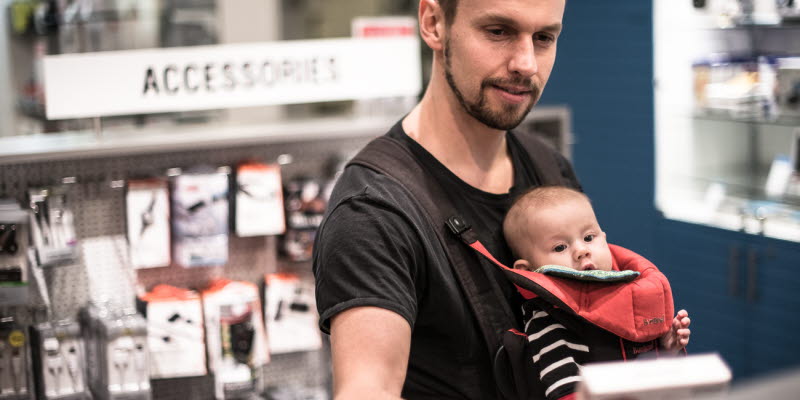 Tips for how to make your visit to the airport with children easier
Get to the airport on time so that neither children nor adults are stressed. It is recommended that you be there at least two hours before departure.
Let your children run off their energy before boarding.
Check your outer garments in the airport left luggage lockers or cloakroom if you are travelling to a warm destination.
It is a good idea to "mark" smaller children with your mobile phone number in case you get separated.
Download Swedavia Swedish Airports app (free) - nice to have both before your journey and when you are at the airport.
Download app for iPhone (new window)
Download app for Android (new window)
Kids Track – security screening entrance for families with children
Families with children have their own entrance to the security checkpoint in Terminal 5, for Gates F26-F69. This makes going through screening faster and smoother for you and your children.
Loan of prams
The majority of airlines request that prams are checked in. If you need a pram after checking in, there are prams that can be loaned in terminals 2, 4 and 5. If you are travelling from Terminal 3, you can pick one up in Terminal 2.
Playground
At Stockholm Arlanda Airport there are two playgrounds: one in Terminal 4 and one in Terminal 5. Both have been designed together with Junibacken.
Play area in Terminal 5
Play area in Terminal 4
Map
You can also download or print out map ahead of time.
Download map
Baby changing room
Baby changing rooms are located in all terminals, in both the men's and women's toilets.
Sometimes children need to travel on their own. To make this possible, there is an assistance service for children travelling on their own. This entails trained staff taking care of the child for the entire journey.
Be sure to book your child's flight well in advance since the number of children flying unaccompanied per flight is limited. Specify when you book that you would like assistance service for an unaccompanied child. Flights within Scandinavia are usually booked on-line and you can book other flights by phone.
Most airlines charge a service fee for unaccompanied children. Check with the airline to see what it costs for a child flying unaccompanied.
Please note that unaccompanied children cannot board the aircraft if there is a risk that the weather will be so bad that it may be difficult to land at the destination. For other situations, for instance, if there is a delay, we provide your child with information and assistance and make sure that parents receive detailed information about all changes. Your child is never left unattended.
Children ages 5–11
Children between the ages of 5 and 11 may not travel unaccompanied, but must be assisted by an airport attendant. If the child is between 5 and 11 and travelling with someone who is at least 16, assistance service is not necessary.
Children ages 12–16
Children between the ages of 12 and 16 may travel unaccompanied but are entitled to assistance if necessary. Assistance service is thus optional, but most airlines require approval from the caregiver if a child under 16 is travelling unaccompanied. Check with the airline to see what rules apply to your child's trip.
Assistance services, step by step
Here is a general description of what happens when a child travels unaccompanied with assistance service.
You will receive a so-called handling document in which you enter personal data about your child, his or her itinerary and the name of the person who will meet the child on arrival and which is signed by the caregiver.

At the airport, you help your child check in and drop off baggage. As caregiver, you must present a valid form of identification at check-in, regardless of where your child is travelling. You must remain at the airport until your child's plane has taken off.

EU regulations stipulate that only those who are travelling and have a boarding card may pass through the security checkpoint and enter the transit area. If your child is flying domestically to another destination in Sweden, you can disregard these regulations and accompany your child all the way to the gate. Contact staff at the airport so they can assist you.

Your child will be assisted by staff through the security checkpoint, up to the gate and on board the aircraft.

On board, the cabin crew help your child find the right seat, keep an eye on him/her throughout the flight and help the child off the plane on arrival.

On arrival, staff meet your child at the aircraft, take care of any baggage and accompany him/her through customs and passport control. After this, the child is handed over to the person assigned to meet the child (the adult named in the handling document). To make sure this is the right person, we need to see a valid form of identification from the person meeting the child.