Qatar Airways celebrates ten years at Stockholm Arlanda Airport
2017-11-28, kl. 09:25
Ten years ago today, on November 27, Qatar Airways landed for the first time on Swedish soil, thus establishing its presence in the Nordic market. Since it launched service, the company has flown some 668,000 passengers from Stockholm Arlanda. The carrier's ten-year anniversary was celebrated with a number of surprises around the airport.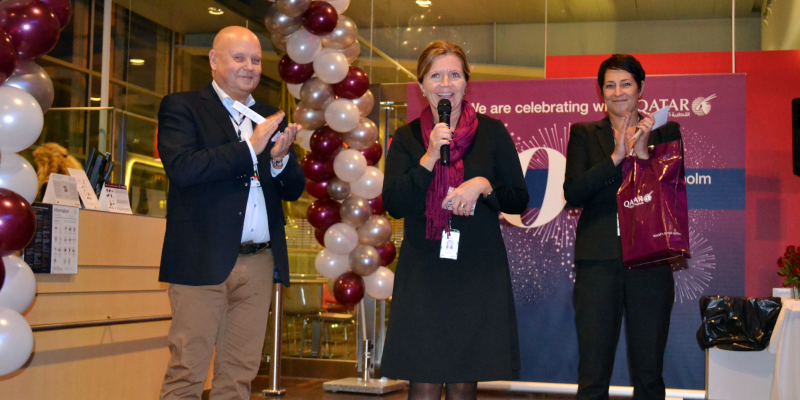 Since service was launched between Stockholm and Doha, passenger volume has steadily increased. Today Qatar Airways offers two daily departures from Stockholm Arlanda. The air link to Dohagives passengers from Sweden better access to a large network of connections to popular tourist and business destinations, such as Bangkok, Colombo, Denpasar-Bali and Delhi.
"It is very pleasing that Qatar Airways has contributed to the positive traffic growth at Stockholm Arlanda Airport for a decade. The airline has doubled the passenger volume from Stockholm Arlanda compared to just three years ago. To easily reach long-haul destinations improves access and strengthens our vision of connecting Sweden with the rest of the world," said Kjell-Åke Westin, Airport Director at Stockholm Arlanda Airport.
The Stockholm-Doha route is operated by a wide-body Dreamliner 787 with 22 seats in Business Class and 232 seats in Economy Class. Last summer, the five-star airline was named the World's Best Airline for the fourth time at Skytrax's World Airline Awards, based on an annual passenger survey.
Photo: Kjell-Åke Westin, Airport Director at Stockholm Arlanda Airport together with Pernilla Tillas, Sales Manager Qatar Airways Sweden, Finland & Baltic States and Nina Astor, Senior Sales Executive at Qatar Airways.