Lufthansa celebrates 60 years in the Swedish air travel market
2019-05-17, kl. 11:20
On April 20, 1959, a Vickers Viscount aircraft took off from Hamburg, its destination Stockholm Bromma Airport. With that flight, Lufthansa inaugurated its first direct route to Sweden.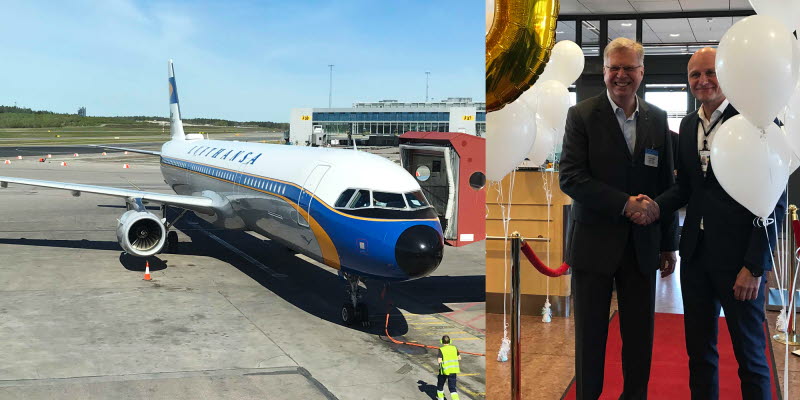 Three years later, in 1962, traffic was moved to the newly built Stockholm Arlanda Airport – and the same year, for the first time a Swedish couple was married on a Lufthansa flight en route to Hamburg. In 1970, Lufthansa expanded its Swedish service, adding Gothenburg as a new destination. Today, the inaugural was commemorated, with a celebration of the German airline's 60 years of service to Sweden.
"We would like to thank Lufthansa for the 60 years of Swedish-German connectivity that have enabled travellers to fly conveniently between the two countries. In 2018, more than 1.5 million passengers flew with Lufthansa from Gothenburg and Stockholm, and Lufthansa is the third largest airline at Stockholm Arlanda today," says Elizabeth Axtelius, Aviation Business Director at Swedavia.
"We are proud to have such a long history connecting Sweden and Germany. Our first flight to Stockholm Bromma 60 years ago in 1959 was operated with a Vickers-Viscount aircraft. Since 1959 Lufthansa was and is a reliable airline connecting Sweden via our hubs to the world.Today Lufthansa offers 124 weekly frequencies between the two countries which is equivalent to 20.588 weekly seats.Also in the future we will continue to offer our customers a premium service on board of our modern, more fuel efficient aircraft", said Gabriel Leupold, Senior Director Sales Nordic & Baltic Countries at Lufthansa Group.
Lufthansa flies several times daily from the two major hubs of Frankfurt and Munich to Stockholm Arlanda and Göteborg Landvetter Airport.