Beloved artist Lill-Babs celebrated in Welcome to My Hometown gallery at Stockholm Arlanda
2019-02-22, kl. 14:13
Today a new participant was unveiled in the Welcome to My Hometown portrait gallery, whose members – well-known Swedes – greet visitors to Stockholm Arlanda Airport and the Swedish capital. The artist is Barbro Lill-Babs Svensson, who for 60 years was one of the country's most popular and well-loved performers. On hand for the unveiling at Stockholm Arlanda were her daughters Kristin Kaspersen and Malin Berghagen together with other family members. Her daughter Monica Svensson was also there but linked via mobile phone.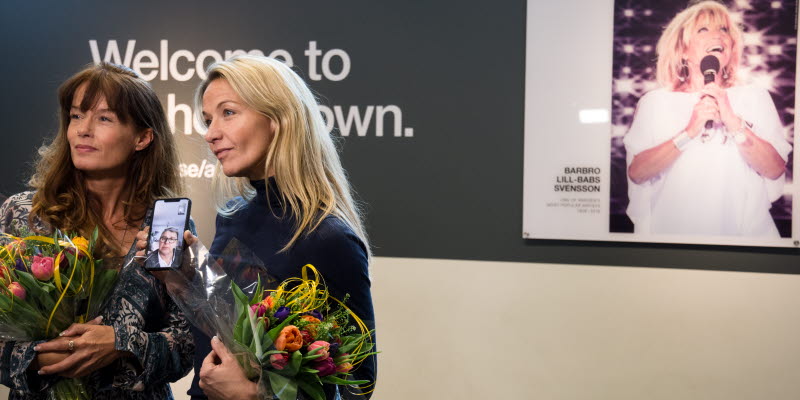 The Welcome to My Hometown gallery at Stockholm Arlanda Airport consists of 93 portraits of people who represent Stockholm's strengths in a variety of different fields such as design, architecture, art, fashion, beauty, culture, entertainment, music, sport, business and entrepreneurship. The gallery is the first thing to greet all Swedish and foreign visitors to the city and now also includes Barbro Lill-Babs Svensson's portrait. From her big breakthrough song "Är du kär i mig ännu Klas-Göran" ['Are you in love with me yet Klas-Göran'] in 1959 to her final role as the popular character Gugge in the Swedish television series Bonusfamiljen ['The Bonus Family'], she has a special place in the hearts of many Swedes.
"Welcome to My Hometown is the first thing to greet all Swedes and international visitors and a way to provide a personal view of Stockholm and what the city represents. The singer and artist Barbro Lill-Babs Svensson is an icon in the Swedish entertainment industry and a very worthy member of the gallery," says Peder Grunditz, airport director at Stockholm Arlanda Airport.
"After our mother's death, we understood what a strong impact she had on our country. There is a long list of people who came up to us in every possible place, such as supermarkets, airports or the metro, and told us about all the tender memories they shared with our mother. We believe it warms not just our hearts to be greeted by our mother's sparkling charisma at Arlanda Terminal 5 but also the hearts of the public who loved her so much. Thank you!" says Kristin Kaspersen.
The portrait photographer is Uffe Ringblom, Ringblom Media Photography Sweden.
About Welcome to My Hometown
Welcome to My Hometown was inaugurated in 2006, and its members were born or have lived or worked in Stockholm. The gallery consists of 93 portraits and is located in the Terminal 5 and Terminal 2 baggage halls at Stockholm Arlanda. Barbro Lill-Babs Svensson's portrait is located in Terminal 5.