Sustainable property development
As part of its active sustainability and environmental work, Swedavia shall think long-term as a property developer, with a focus on innovative development in terms of planning, technological solutions, sustainable materials, energy efficiency and economics.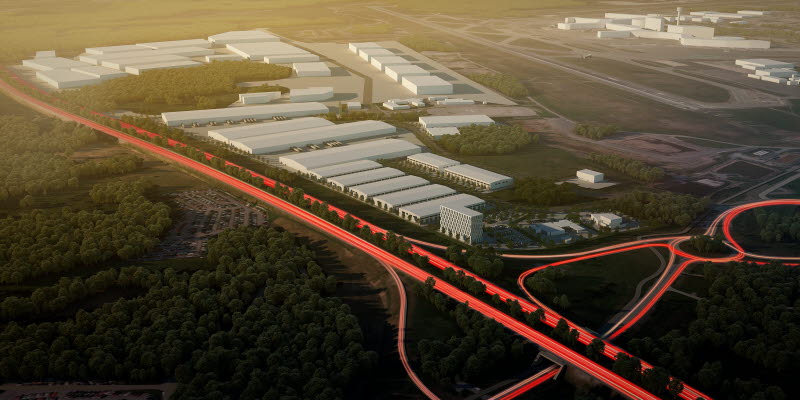 Logistic City, Stockholm Arlanda Airport. Visionary image: Archus Arkitektur.

Swedavia's sustainability and environmental programmes at different stages of its urban and property development.
Sustainability programme at the early development stages
A sustainability programme is set up at an early planning stage of an urban development project and mainly includes project planning, a process management description and overall measures.
Swedavia Real Estate has chosen to work in accordance with the Citylab Guide, a toolkit that provides guidance in sustainable urban development, which was developed by the Sweden Green Building Council. Among other aspects, the Citylab Guide specifies a number of focus areas that shall be integral to and provide direction for the sustainability work in the urban development project:
Spatial and integrated urban qualities, such as functions and development structure
Infrastructure for accessibility and proximity
Appropriate air, lighting and sound environments
Multi-function green spaces and climate adaptation
Resources in natural cycles, such as material flows, water and energy
These focus areas are based on, and closely aligned with, the UN's Global Goals for Sustainable Development.
The first of Swedavia Real Estate's urban development projects to have a sustainability programme designed in accordance with Citylab is the first stage of Logistic City at Stockholm Arlanda Airport.
Read more about Citylab on Sweden Green Building Council's website

Environmental programme in construction projects
Later in the planning stage, before construction starts, an environmental programme is drawn up with concrete sustainability targets and measures for implementation.
Using the sustainability programme as its basis, the environmental programme incorporates a large number of sustainability aspects for the specific building project, including a non-toxic environment, the choice of materials, waste, the indoor climate, energy efficiency and the workplace environment.

Top-level certification
Swedavia Real Estate has set high sustainability targets and is also a pioneer in the environmental certification of buildings. The recently built Office One complex (2019) at Stockholm Arlanda Airport has been BREEAM-SE certified with an Excellent rating. The recently opened Comfort Hotel Arlanda Airport (2020) will also be certified in accordance with BREEAM-SE standards with a Very Good rating.
BREEAM is an international environmental certification system for buildings with a total of six ratings (Unclassified, Pass, Good, Very Good, Excellent and Outstanding).

Read more about BREEAM on the Sweden Green Building Council's website

Contact and further information
Would you like to know more about Swedavia Real Estate's sustainability work? Contact Adam Lunderup, Sustainability Manager, Swedavia Real Estate: +46 (0)10-109 06 94 or adam.lunderup@swedavia.se
Would you like to know more about the Swedavia Group's environmental work? Read more here