Swedavia's Airport Charges Reduced by 0.5 % for 2018
2017-11-15, kl. 10:48
Swedavia has decided to decrease its airport charges by 0.5 % during 2018. The new charges include a one-time adjustment, without which the charges decision amounts to an increase of 2.2 %. The decision maintains Swedavia's highly competitive airport charges at a level 20 % lower than competing and comparable European airports.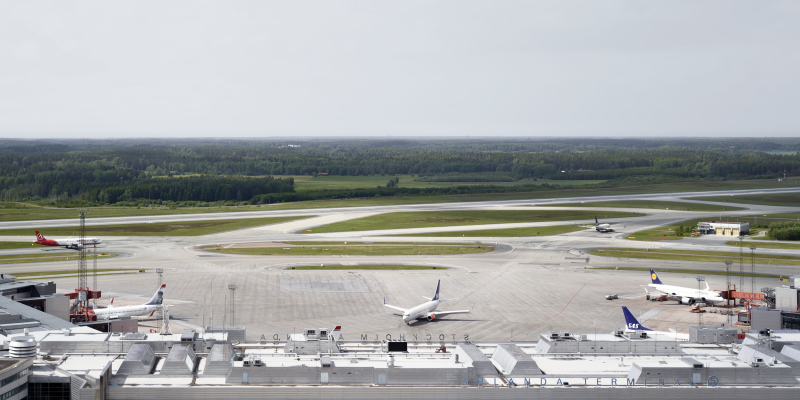 The charges decision includes the following changes:
1. Return of the non-implemented charges decrease for 2017 (including unused funds for bio-fuel and traffic risk sharing 2016) and traffic risk sharing 2017
2. Updated capital cost (WACC) in the price model
3. Harmonisation of the passenger charge
4. Reduced passenger charge at Stockholm Arlanda Terminal 3
5. Adjustment of the take-off charge at 10 airports
6. Adjustment of the ground handling infrastructure and PRM charges
7. Return to cost coverage for the terminal navigation charge (TNC) at Göteborg Landvetter
8. Revised traffic risk sharing program
9. Introduction of investment risk sharing
10. Introduction of volume discount
11. Updated level of the slot coordination charge (charged at Arlanda, Bromma and Landvetter)
12. Swedish Transport Agency supervision costs included in the cost base
Charges not specifically listed will remain unchanged at current levels. The passenger charge is kept at today's charge level but will be harmonised (same charge per airport for domestic and international passengers) from 1 January 2018.
Swedavia's charges decision is, apart from what applies to the harmonisation of the passenger charge, applicable as of 15 January 2018. The retroactive adjustment resulting in the charge decrease by -0.5 % is in effect until 14 January 2019 when the charge level instead is increased by 2.2 % (compared with today), provided nothing else has been decided by then. The updated price list will be published on swedavia.com no later than 1 January 2018.
For further information, please see the full price decision:
Swedavia Price Decision Airport Charges 2018
Please contact Swedavia Pricing at consultation@swedavia.se if you have any questions regarding this information.