Swedavia launches new Flajt family concept
2017-12-14, kl. 13:52
Each year, millions of people fly from Swedavia's airports, and during the Christmas holidays there is especially a lot of traffic as many families fly home or abroad to celebrate Christmas. Swedavia now wants to make travel easier for all families with small children with the help of its mascot, Flajt, who spreads knowledge about the unique environment at the airport through inspiring activities and games. The first of Swedavia's airports to welcome Flajt is Malmö Airport, to be followed by Ronneby Airport and Visby Airport.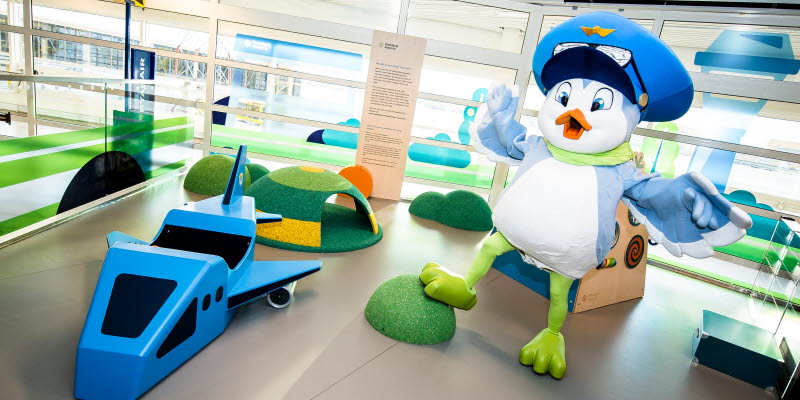 The content in the Flajt concept is aimed at stimulating the curiosity of children and getting them to see that their own independent ideas are clever and important. Through storytelling, children get inspiring information and knowledge, which makes travel easier and provides them with fun activities that are also instructive.
"Together with Flajt, children get knowledge about how baggage is taken care of and how things work in the air traffic control tower and at the security checkpoint. Flajt can also spotlight important topics of the future that are related to airports, such as technology, the environment and sustainability. According to the story, Flajt was inspired by planes and people who work at the airport and then moved in to help take care of children who will be taking a flight," says Linda Sjödin, chief communications officer at Swedavia.
Various aspects of the concept have been developed in line with the launch of Flajt – everything from play areas to a film and song to giveaways and a kids' track through security screening at Stockholm Arlanda – all in order to make things work smoothly at the airport and at the same time give children an experience to remember. The first airport to welcome Flajt is Malmö Airport, with a large play area that was recently developed.
"With our Flajt play areas, children get to test their own wings. Through inspiring games and activities, we convey stories about all the exciting jobs performed at an airport. We also hope that parents will appreciate the children's play area and have a chance to relax before their flight," says Peter Weinhandl, airport director at Malmö Airport.
The communication agency True Stories is responsible for developing this concept as well as those of Valles Värld ('Wally's World') for SkiStar, Happy at Sea for Stena Line and Årstidarna ('The seasons') for the Mall of Scandinavia in Stockholm. The launch of Flajt will be rolled out during 2018 at all of Swedavia's airports.