Swedavia expands collaboration with Stockholm Pride
2018-05-24, kl. 16:22
Since 2011, Swedavia has taken part in Pride festivals across Sweden in order to show its support for the equal rights and value of all people. Swedavia is now expanding its collaboration with the Stockholm Pride organisation and will be a bronze partner for a three-year period.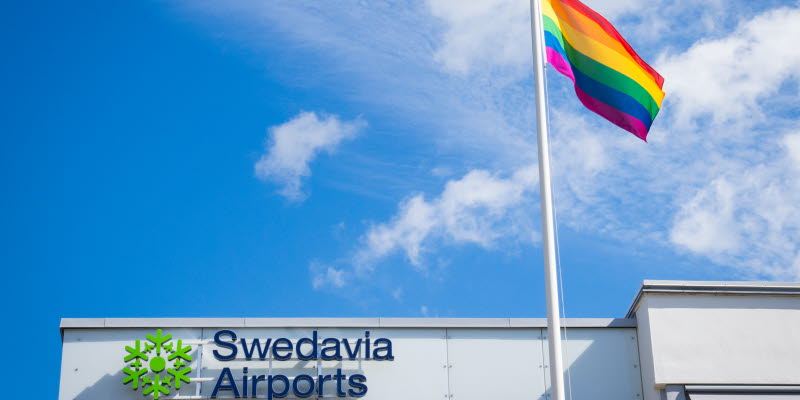 Swedavia has been involved in and an exhibitor at Stockholm Pride since 2011, with this year's participation being the eighth straight year.
"Swedavia is actively engaged in contributing to more sustainable development and highlighting the equal rights and value of all people," says Tove Möller, who is in charge of diversity and social sustainability at Swedavia.
Stockholm Pride works to enhance the living situation and rights of LGBTQ people. The association's mission is to raise the profile of heteronormativity and of LGBTQ people in society generally. The festival is a joy-filled free zone for LGBTQ people and works to ensure that LGBTQ people are able to take their place in the public sphere.
"We at Swedavia consider it self-evident to contribute to the work that Stockholm Pride promotes day in and day out. For us and for many of our engaged employees, the annual Pride festival in Stockholm, which this year is also hosting the international event EuroPride, is one of the highlights of the year," Möller notes.
In late March 2018, Swedavia received an award for its determined, focused long-term engagement for diversity on the job by the Scandinavian Gay & Lesbian Chamber of Commerce.
"We have a very positive view of Swedavia's engagement in Stockholm Pride. Swedavia works actively with LGBTQ issues in its own organisation, and we are pleased that we have now signed a three-year agreement to together continue the work for a more open society," says Britta Davidsohn, chair of Stockholm Pride.
At this year's Stockholm Pride/EuroPride, to be held July 27-August 5, Swedavia will be on hand with its own tent during the festival and have a vehicle in the parade.