Stockholm Arlanda and Beijing Capital International Airport now sister airports
2016-02-29, kl. 11:29
At a ceremony in Beijing, Swedavia and the Chinese airport operator CAH launched a sistership between Stockholm Arlanda Airport and Beijing Capital International Airport. Stockholm Arlanda was already a "Chinese-Friendly Airport" as part of project to accommodate the rapid increase in Chinese visitors to Sweden. Now ties between the two countries will be even closer through this sistership with Asia's largest airport.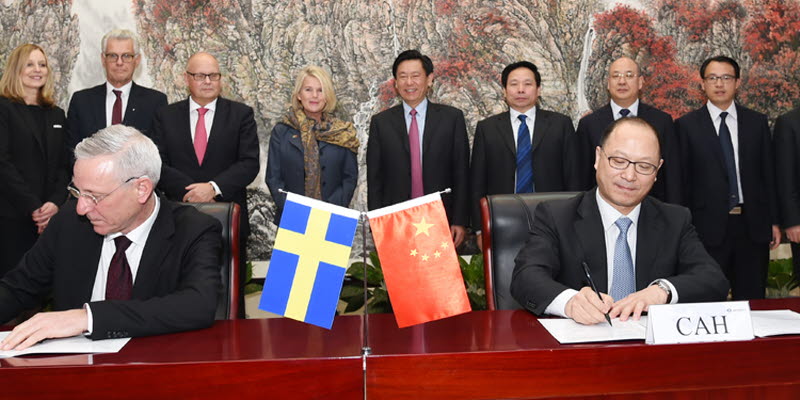 China has passed the United States as the country with the greatest number of people who travel internationally. In 2014, there were 117 million international Chinese travellers, and in 2020 that figure is expected to double to as many as 234 million. The Chinese are also the nationality that spends the most money on tourism internationally. Stockholm Arlanda is the only Nordic airport served by Air China, and air travel between China and Sweden has grown sharply. Since 2000, air traffic between Stockholm and Beijing has grown ten times faster than all other international traffic at Stockholm Arlanda. In addition, the number of Chinese visitors to Sweden increased 28 per cent last year.
In September, SAS launch non-stop service between Stockholm and Hong Kong. To welcome the growing number of Chinese visitors, Stockholm Arlanda is now a so-called Chinese Friendly-Airport. This includes websites and signage in Chinese, welcome hosts and an offering of shops and restaurants at the airport tailored to Chinese travellers.
Knowledge exchanges on environmental and sustainability work, operational matters
The new sistership between Stockholm Arlanda and Beijing Capital International Airport entails knowledge exchanges on airport operations, property development in the airport vicinity and sustainability, with the Chinese being very interested in Stockholm Arlanda's world-leading environmental work.
"We are pleased to now deepen our good relations with China. It is in order to meet the needs of the rapid passenger growth to and from Sweden that we are investing billions of kronor in developing Stockholm Arlanda's terminals in the years ahead," says Kjell-Åke Westin, airport director at Stockholm Arlanda Airport.