Office One and United Spaces co-working arena inaugurated at Stockholm Arlanda
2019-05-15, kl. 15:46
Swedavia is developing the airports of the future and the most important meeting places in the Nordic region. The airport city now taking shape at Stockholm Arlanda Airport includes the newly built Office One complex.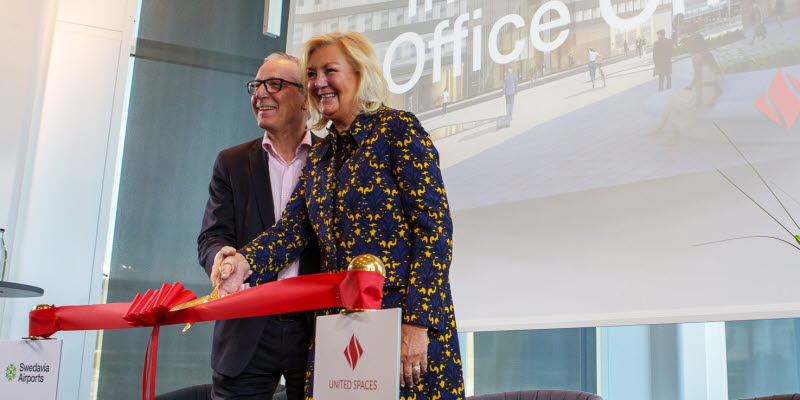 Today Swedavia inaugurated the Office One complex at Stockholm Arlanda. The building, with 15,000 square metres of space on ten storeys, is located immediately adjacent to Terminals 4 and 5. One of the tenants at Office One is United Spaces, Sweden's leading player in co-working. The inauguration included trend analyses from Kairos Future and panel discussions on the theme of tomorrow's workplaces and how companies will need to adapt to people's new, flexible ways of working.
"The development of an Airport City Stockholm will play a critical role in the economic growth of the Stockholm region and Sweden. The airport is an optimal place to start up operations for the ways of working of the future: open, international, flexible and with a focus on meetings between people. Through our partnership with United Spaces, we can offer modern co-working solutions at Stockholm Arlanda, and I am proud today to have the honour of inaugurating Office One," says Karl Wistrand, Deputy CEO of Swedavia and acting Director of Facilities and Systems corporate unit.
"It is fantastic that United Spaces can now offer opportunities for co-working and meeting venues at Stockholm Arlanda. It is a dynamic, growing place with great potential for this kind of format for working and meeting. The premises, which include 2,400 square metres of floor space, are located between Terminals 4 and 5, and the interior furnishings are inspired by Scandinavian colours and natural materials. We look forward to seeing that development here," says Yvonne Sörensen Björud, CEO of United Spaces.
Airport City Stockholm, which is a collaboration between Swedavia, the Municipality of Sigtuna and Arlandastad Holding, will play a critical role in the growth of the Stockholm region and Sweden. The ambition is to double the number of jobs here from 27,000 today to 50,000 by 2030. Stockholm Arlanda is the gateway to the dynamic, rapidly growing Stockholm-Uppsala region and the meeting place that connects the region to the world. Swedavia fulfils the need for modern offices and meeting places combined with efficient mass transport.
Facts Office One
The building offers 15,000 square metres of office space on ten storeys, including 2,400 square metres of co-working space and meeting venues under the management of United Spaces
Architect: Sandellsandberg
Building contractor: NCC
Environmental certification: Certified under BREEAM standards as Excellent. BREEAM is a Swedish environmental certification system for buildings, and Excellent is the second highest rating.