Jetpak to set up its main office at Office One
2019-05-14, kl. 08:30
Swedavia has signed a ten-year lease for more than 1,000 square metres with the express delivery company Jetpak. In late 2019/early 2020, Jetpak will move its main office to Office One – Swedavia's new office property at Stockholm Arlanda Airport.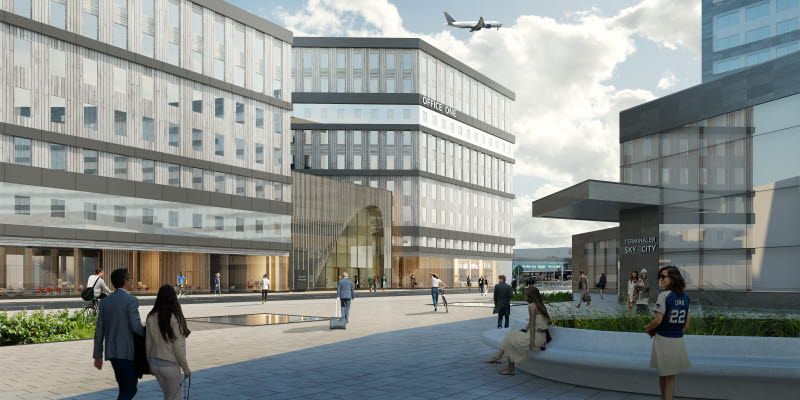 Office One, completed in late 2018, offers a total of 15,000 square metres of office space over ten storeys. The building is centrally located at the airport, close to the terminals, mass transit options, hotels and other services.
"Naturally, we are very pleased that Jetpak, and thus another tenant, has chosen Office One, which is a unique meeting place close to the entire world with its location at Stockholm Arlanda Airport. Flexible office solutions combined with efficient mass transport are something that is increasingly in demand," says Karl Wistrand, deputy CEO at Swedavia and acting director of the Group's Facilities and Systems unit.
"Our move to Stockholm Arlanda and Office One is an important step in order to get closer to our core business and to enhance our relations with customers and suppliers. It is also an important part of our European expansion and internationalisation of our business operations;" says Kenneth Marx, CEO of Jetpak.
Other tenants at Office One include United Spaces, one of the leading players in co-working in the Nordic region; Dovista Sverige, one of Sweden's leading window manufacturers; and Babcock Scandinavian AirAmbulance, the largest air ambulance company in the Nordic countries.
Office One is located in the heart of the new airport city now taking shape at Stockholm Arlanda Airport. In the same district, one of the largest airport hotels in the Nordic region is under construction and will open in early 2020. Other buildings to be built near the terminal are planned as part of the development to make Stockholm Arlanda Airport the leading airport in the Nordic countries.
Facts about Office One 
The building offers 15,000 square metres of office space on ten storeys
Architect: Sandellsandberg
Building contractor: NCC
The building is designed for maximum efficiency and minimal energy us. It is equipped with high-quality insulation, a climate control system and ventilation.
Environmental certification: Certified under BREEAM standards as Excellent. BREEAM is a Swedish environmental certification system for buildings, and Excellent is the second highest rating