Growth at Stockholm Arlanda leads to hotel project expansion
2017-05-15, kl. 11:14
In October 2016, Swedavia and the hotel operator Nordic Choice Hotels reached an agreement for Stockholm Arlanda's major new hotel to be run by Comfort Hotel. Given the sharp increase in passenger volume at the airport, the parties have now decided that the hotel project will be expanded, with the number of hotel rooms increasing from 463 previously to 503. As a result, it will be the largest airport hotel in the Nordic countries and one of the largest in Stockholm.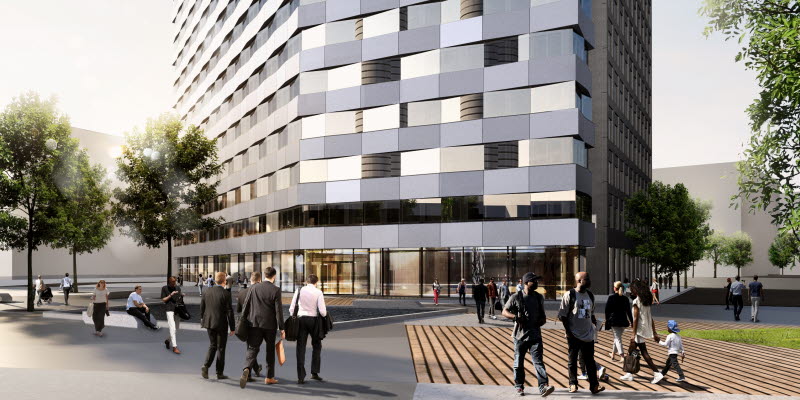 Passenger volume at Stockholm is sharply on the rise. During the first quarter of 2017, more than 2.1 million passengers flew to or from the airport. That is an increase of six per cent compared to the same period in 2016. This growing pressure on the airport also increases the need for accommodation options. The Comfort Hotel Arlanda Airport, which is planned to open in late 2019, will therefore be expanded by another 40 rooms.

"Stockholm Arlanda is a success story. The airport is growing like mad, and we are growing along with it. We are now expanding the hotel even before ground for the original hotel is broken. This enhances the competitiveness of Stockholm and Sweden, and I am really proud that we can be part of this work," says Nordic Choice Hotel's owner and chairman of the board, Petter A Stordalen.

Stockholm Arlanda Airport is growing rapidly. Since 2010, passenger volume is up 40 per cent, from 16 to 23 million passengers. Since 2013, Stockholm has added 14 new intercontinental routes. To handle this growth, a fourteen-storey hotel is now being planned mainly for leisure travellers and families in the affordable luxury segment. The focus is on smaller, high-quality rooms and a large lounge area for meetings, socialising and relaxation. The hotel will be located next to SkyCity, which offers a large selection of shops and restaurants.

"We are pleased to have signed an agreement with Nordic Choice Hotels to be the operator of Stockholm Arlanda Airport's major new hotel. This new hotel concept meets the demand from modern travellers and is fully in line with the demand we see due to our increased passenger volume. We are making a major investment in the development of a brand-new airport city to enhance the conditions needed for Sweden's economic growth and access," says Jonas Abrahamsson, president and CEO of Swedavia.

The hotel, with 20,000 square metres of space, will be 14 storeys and have a combined lobby and lounge, restaurant, bar and winter garden. Construction start is planned for the summer of 2017, with occupancy in 2019.

Nordic Choice Hotels previously established the large Clarion Hotel at Stockholm Arlanda Airport. For Swedavia, this hotel venture is the next phase in developing the new airport city as demand for travel and overnight accommodation grows. During the spring, construction began on the Office One complex, located on the square adjacent to the two hotels.