Bockasjö and Swedavia to lease 46,000 m2 to PostNord TPL at Göteborg Landvetter Airport
2019-09-06, kl. 13:09
The property developer Landvetter Logistik Center, jointly owned by Bockasjö and Swedavia, has signed an agreement with the third-party logistics company PostNord TPL to establish a new logistics centre at Airport City Göteborg, immediately adjacent to Göteborg Landvetter Airport.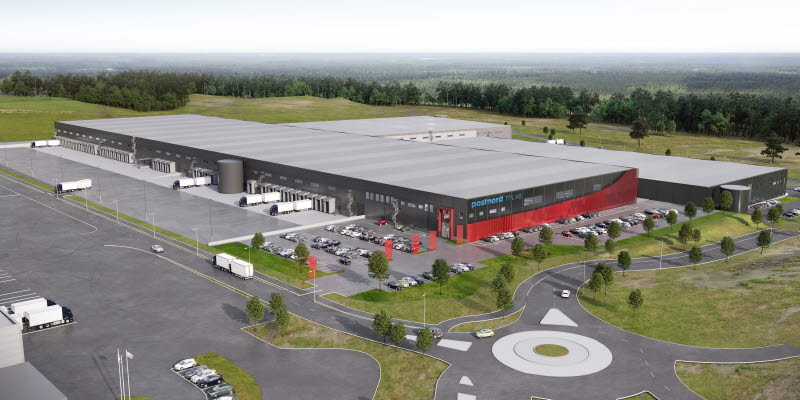 "We are pleased about our partnership with PostNord TPL and about being entrusted with the task of further developing a new logistics centre together with them. This will be our third project with PostNord TPL and our fifth with the PostNord Group. The project also represents an important milestone in the development of Airport City Göteborg. We are constructing the third logistics building in the area, which means the airport city's first logistics park is now up and running," says Joakim Hedin, CEO of Bockasjö and CEO of Landvetter Logistik Center.
PostNord TPL will lease the entire property, which has leasable space of 46,000 square metres and will be completed in two phases. The first phase comprises about 20,000 square metres and will be ready for occupancy on June 1, 2020. The remaining section of the building is expected to be ready for occupancy in the autumn of 2020. The property will be certified as a Green Building with low energy consumption, and preparatory measures will be taken for the installation of solar panels.
"We have a close collaboration and good experience working with Bockasjö when it comes to new construction. Landvetter Logistik Center was the firm that could fulfil our requests in terms of the property size and timetable," says Mårten Koshko, business development manager at PostNord TPL.
In 2015, Bockasjö and Swedavia formed the joint venture Landvetter Logistik Center AB. A site consisting of around 170,000 square metres west of the entrance road to Göteborg Landvetter Airport has been prepared for the establishment of three new logistics properties with a total of 90,000 square metres in leasable space. The new logistics park is part of Airport City Göteborg, which consists of warehouse and logistics operations, offices, hotels, retail space and work sites now taking shape immediately adjacent to Göteborg Landvetter Airport.
PostNord TPL's new logistics centre in Airport City Göteborg. Vision image: Krook & Tjäder, architects