Stockholm
– the capital of Scandinavia
Stockholm is not only the biggest city in the largest country in Scandinavia but also one of Europe's fastest-growing capitals, with nearly 39,000 people moving there annually, predicted to grow six times faster than Paris and twice as fast as Copenhagen by 2030.
With one of Europe's highest GRPs per capita and considerable purchasing power, Stockholm County has Sweden's highest income earners.
Sweden is the largest tourist destination in the region. International companies are attracted to Sweden for numerous reasons and both population and tourism are growing continuously. Moreover, Sweden is a multicultural country in which every third person have a foreign background, resulting in a highly diverse population.
In addition, disposable income and private consumption growth are stronger than in most other European countries.
Sweden is a nation of a large wealthy middle-class segment with one of the highest levels of purchasing power in Europe who devote a large share of their spending on travels.
Largest city and corporate market in the Nordics
One of Europe's fastest growing capitals
Europe's third biggest hub for global headquarters
Largest tourist destination in the Nordics
Global tech and startup hub
One of the world's best cities for attracting talent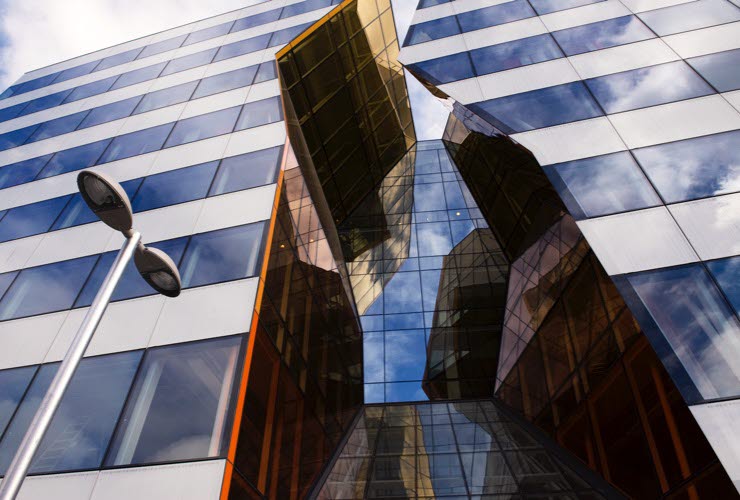 Largest corporate market and financial hub
It is also a popular choice for regional headquarters of multinational companies, the location for half of the Forbes Global 2,000 companies in the Nordic region and Europe's third-biggest hub for global headquarters of which foreign companies account for 85 per cent. In addition, it is the largest corporate market and financial hub in the Nordics.
Stockholm is consistently heading global business and innovation rankings and thanks to successful startups like Spotify, Skype, King, iZettle, Mojang and Klarna, Stockholm has become a global tech and startup hub. In fact, Stockholm has produced most unicorn start-ups per capita than any region in the world after Silicon Valley.
Ranked by the Global Talent Competitiveness Index as one of the World's best cities for growing, attracting and retaining talent, Stockholm is Scandinavia's melting pot with over 190 nationalities from around the globe.
Growing MICE and tourism market
Stockholm is the largest tourist destination in the Nordics and is increasingly popular and growing as an incoming market. Widely regarded as one of the world's most beautiful cities, Stockholm is a groundbreaking, welcoming and innovative trendsetter.
Stockholm is also one of the world's most popular international meeting and convention destinations with one of Europe's largest and most modern congress and exhibition centres. In total Stockholm attracted 192 international association meetings resulting in 74,000 delegates in 2019.
Each year Stockholm also hosts a wide array of trade fairs, public events and concerts.
Find a selection of major public events 2022-2024 here.
Based on commercial overnight stays, the majority of visitors to Stockholm are business travellers but the difference to private travellers is steadily diminishing. Business travellers make up 52 per cent and leisure travellers 48 per cent.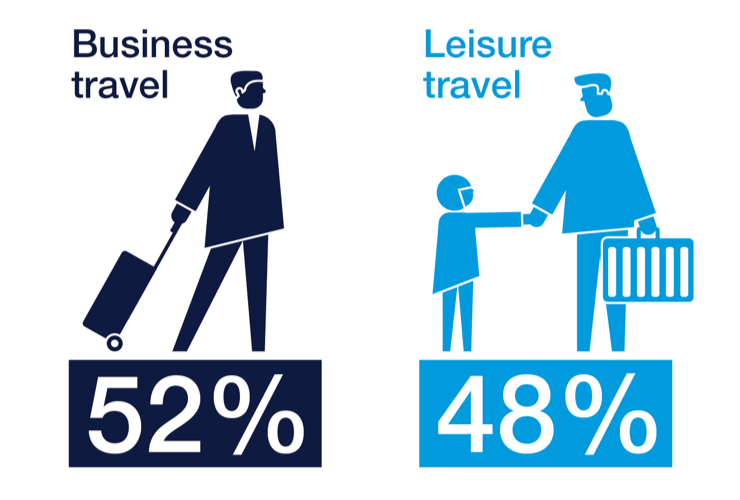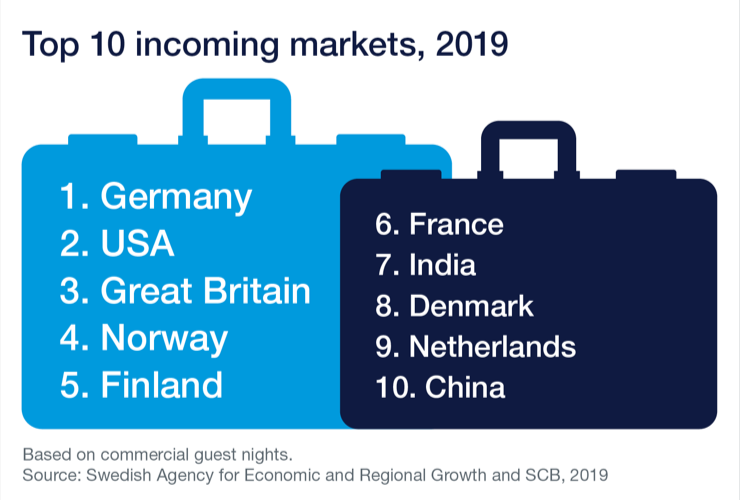 In 2019, 15.3 million guest nights were made in all forms of commercial accommodation in Stockholm county, plus 5 per cent compared to 2018.
The fastest increase in a five-year perspective is generated by guests from non-European countries. In addition, many overnight stays are made at noncommercial forms of lodging and visits to friends and relatives.
More than 10.2 million ferry passengers were passing through the ports of Stockholm in 2019 crossing the Baltic Sea.
Arriving and departing passengers in Ports of Stockholm 2019 were mainly from Finland (7,350,000, 72%), the Baltic countries (2,000,000, 20%), Poland (166,000, 2%) and Russia (66,000, 0.6%). Cruise visitors added up to 656,000 (6.4%). [italic] Source: Port of Stockholm.
For more information about the region, see Visit Stockholm and Invest Stockholm.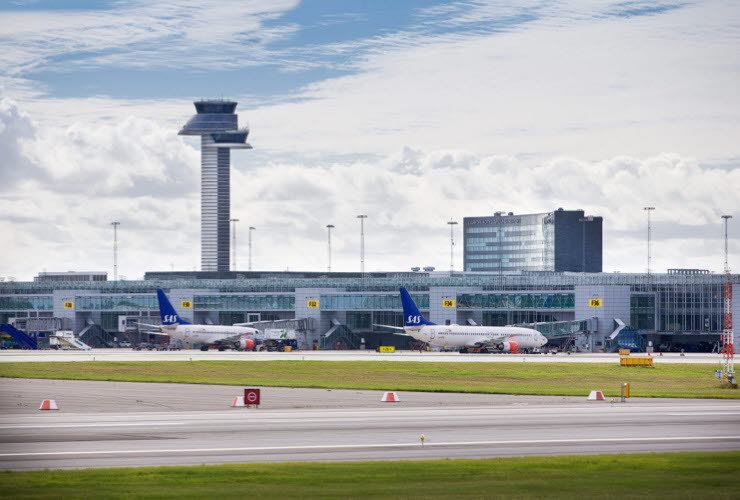 Stockholm Arlanda Airport
– The leading Nordic airport
Prior to the downturn in passenger volume and the Covid-19 pandemic, the international Stockholm Arlanda Airport was the fastest growing airport in the Nordics for a long period of time with an increase in airline representation, direct routes and passenger numbers – internationally as well as domestically.
Air travel has an important role and will continue to do so going forward. We are preparing Sweden's capital airport for the future. Stockholm Arlanda Airport shall provide a smooth, inspiring travel experience, be a leading meeting place and an international role model in sustainability.
Extensive work is carried out at the main terminals, read more about what's under development.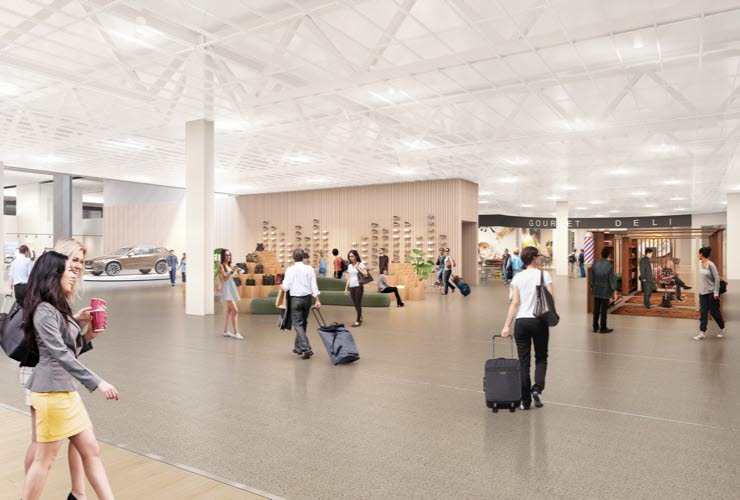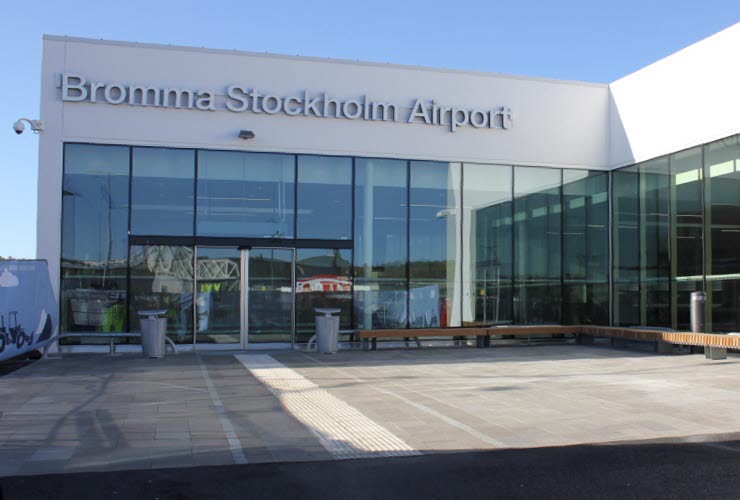 Bromma Stockholm Airport
– A modern city airport
Bromma Stockholm Airport (BMA) is the fastest alternative to and from the Swedish capital owing to its location just 10 km west of the city centre. Due to its size, arrivals and departures through Bromma Stockholm Airport are often quick and easy and the airport handles mainly domestic and short-haul flights with a strong emphasis on business travel. At the same time, Bromma Stockholm Airport is a major airport and claims the title of being Sweden's third-largest after Stockholm Arlanda Airport and Göteborg Landvetter Airport.
Because of its proximity to Stockholm and surrounding neighbourhoods, environmental standards are extra tough. Only the very quietest, most environmentally friendly aircraft may land at Bromma Stockholm Airport.
In order to deliver the service expected from a modern city airport, a refurbishment was recently carried out. A new arrival hall, a revamped departure hall, a new security checkpoint and improved taxi and bus facilities are just a few examples of all the changes at Bromma Stockholm Airport over the past few years.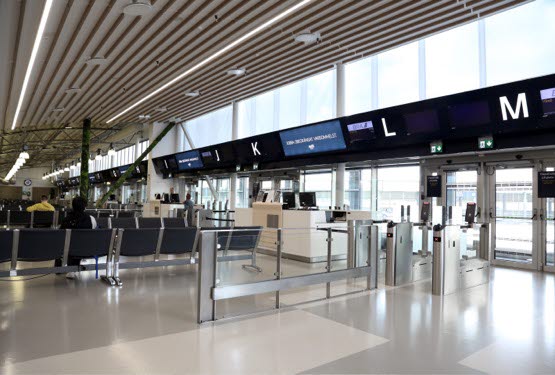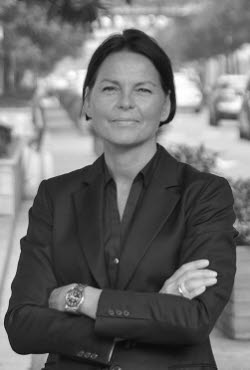 Marie Linghoff-Lehnert
Senior Business Development Manager - Intercont
Stockholm Arlanda Airport