First tenants move into Office One
2018-10-01, kl. 07:51
The doors of Office One open today at Stockholm Arlanda. The newly built office building is located immediately adjacent to SkyCity, just a few minutes from the terminals. The first tenants, Babcock Scandinavian AirAmbulance and Swedavia Airport Telecom, are now ready to move in and make themselves at home in their new premises.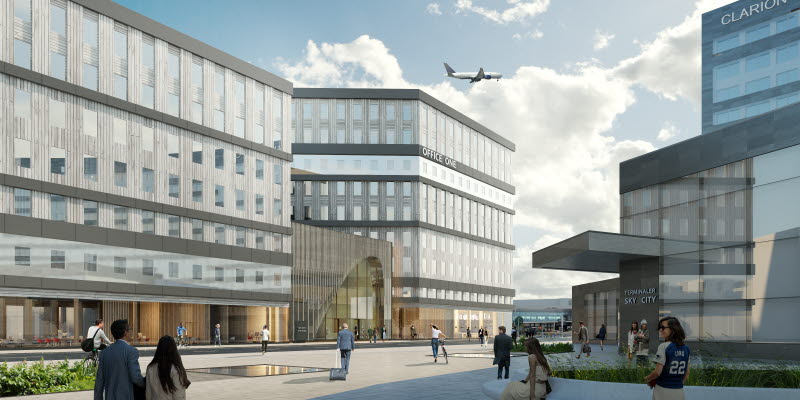 "Our vision is to create a unique meeting place based on the customer's needs and close to the rest of the world. We have looked forward to the day our first tenants can move in and make their premises their own, and now it is here," says Karl Wistrand, CEO of Swedavia Real Estate.
Office One is located in the heart of Airport City Stockholm – the new development now taking shape around Stockholm Arlanda – close to both Stockholm and Uppsala. The proximity to the terminals and the airport's other transport modes also enables tenants to be closer to their customers and business partners elsewhere in Sweden and the rest of the world.
Babcock Scandinavian AirAmbulance, the largest air ambulance company in the Nordic countries, which previously had its office in Stockholm Arlanda's Terminal 2, is excited to finally be able to move into its new premises.
"We are pleased that we get to move into new, modern and airy premises and still be close to the airport," says Agneta Karlfeldt, head nurse and operations manager at Babcock Scandinavian AirAmbulance.
Swedavia Airport Telecom will also now move into Office One in October. In the spring of 2019, they will be joined by the ground handling company Aviator, the customs services company Tullsupport, the Swedish window manufacturer Svenska Fönster, and United Spaces, one of the leading co-working companies in the Nordic region.
Would you like to know more about Office One?
Facts in brief:
15,000 square metres of office space where each tenant has the possibility to design and furnish their premises based on their own needs.
A total of ten storeys.
The building was designed for maximum efficiency and minimal energy use. It has been fitted with high-quality insulation, climate control and ventilation, and will be certified in accordance with BREEAM-SE environmental standards.

For further information, please see our brochure on Office One. You are also welcome to contact Andreas Wallebom, Leasing Manager, +44 (0)10 109 13 35, andreas.wallebom@swedavia.se.