Aviator to move in to Office One, Swedavia's new office complex at Stockholm Arlanda
2019-01-10, kl. 08:00
The ground handling company Aviator Airport Alliance will set up its main office in Swedavia's new Office One complex at Stockholm Arlanda Airport. The move is planned for February 2019.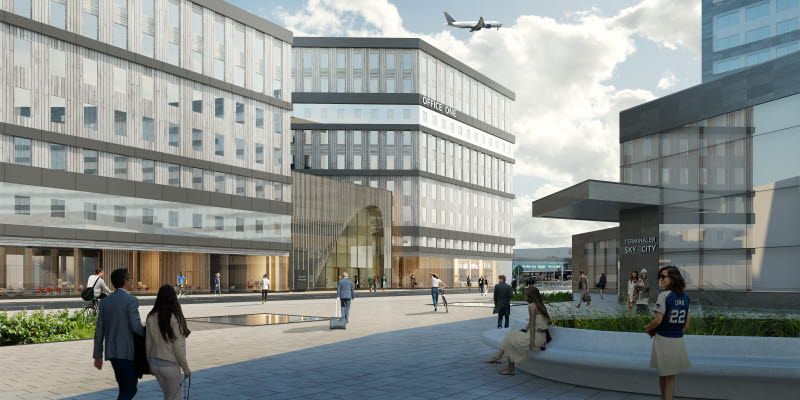 Swedavia's newly built Office One complex is located immediately adjacent to the terminals and SkyCity at Stockholm Arlanda. The building was completed in the autumn of 2018 and with its 15,000 square metres of floor space is Swedavia's largest investment in office properties in the vicinity of one of its airports.
"It is with great pleasure that we welcome Aviator to Office One. We are proud that we can offer growth opportunities for our airport partners, and at the same time create attractive opportunities to set up operations in the rapidly growing Stockholm-Uppsala region. Because of the location, tenants will be closer to customers and business partners in the rest of Sweden and elsewhere in the world," says Karl Wistrand, president and CEO of Swedavia Real Estate.
Aviator's lease is for about 300 square metres of office space. The company will move in on February 1, 2019. Other tenants in Office One include United Spaces, one of the leading players in co-working in the Nordic region, Babcock Scandinavian AirAmbulance, the largest air ambulance company in the Nordic region, and Swedavia Airport Telecom.
A new city is taking shape at Stockholm Arlanda Airport
Stockholm Arlanda Airport shall be the leading airport in Scandinavia. Development and construction here are progressing at a rapid pace. And at the same time that Swedavia is preparing for the travel of the future, a sustainable city is taking shape immediately adjacent to the airport, with a vibrant city centre for commerce, creativity, meetings and work.
Office One has a very central location in the new airport city, right next to the terminals. The building has been designed for maximum efficiency and minimal energy use. It is equipped with high-quality insulation, climate control and ventilation systems, and will be certified in accordance with the BREEAM-SE environmental certification system's standards. Read more about Office One here.