Ulrica Fagerberg at Göteborg Landvetter named Pressbyrån's top merchant
2018-02-13, kl. 08:23
At Reitan Convenience's annual national meeting held this week in Örebro, the winner of the prestigious Merchant of the Year award for franchisees at Reitan Convenience's different stores was announced. Ulrica Fagerberg, a franchisee at the Pressbyrån convenience store at Göteborg Landvetter by Gate 17, impressed the company with her fine sales in a small shop and has now been named Merchant of the Year.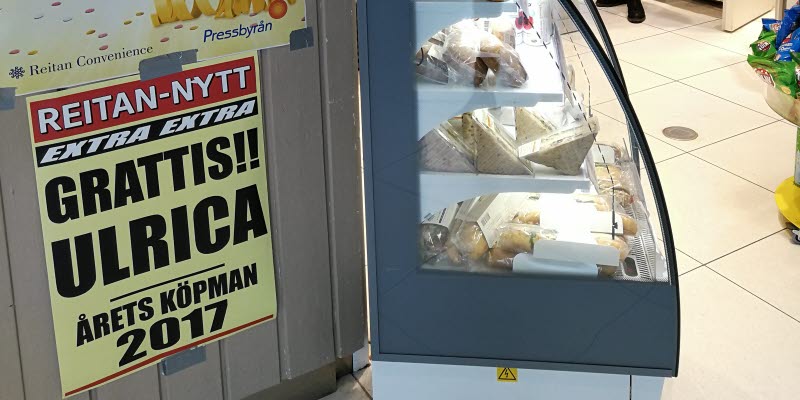 Each year, Reitan Convenience names its Merchant of the Year at 7-Eleven, Shell/7-Eleven and Pressbyrån. The award is given to the merchant who worked with great focus to successfully develop their operations during the year in line with the brand's concept. The honour was handed out at Reitan Convenience's annual national meeting, at which all the franchisees are gathered.
"We think it is incredibly important to spotlight and celebrate people at the company who performed well during the year. Finding talented, driven merchants who continuously show how nothing is impossible is part of our corporate culture. The Merchant of the Year award goes to people who have shown that they are true role models who motivate other merchants in the organisation, who inspire others around them to perform their best," says Magnus Carlsson, CEO of Reitan Convenience Sweden.
"It feels really great – and is proof that you do not have to be a giant store with large revenues to be successful. It is enough to be focused on your goals and be stubborn to succeed," says Ulrica Fagerberg.
The prize is based on a number of different metrics such as leadership, quality, sales and profitability and is awarded to the stores that have been most successful in all these categories. The stores nominated are the best in all these areas.
The jury's reasoning: "This merchant has made an unparalleled journey during her long career at Pressbyrån. After many tough years, everything has now finally 'clicked'. A little shop but impressive sales that really require the right person in the right place. With her stubborn focus and meticulousness, this merchant has mastered every challenge in an impressive manner. You can say that she now finally has got the wind beneath her wings."