Shop for groceries online and pick them up at Göteborg Landvetter
2019-04-18, kl. 13:33
Coop is the first supermarket chain in Sweden to offer the innovative service of delivering groceries ordered online. Today Coop is starting a trial that allows people to order their groceries online and then choose to pick them up outside the arrival hall at Göteborg Landvetter Airport. There are growing demands for more flexible delivery solutions, while customer demands are expected to grow even more as more people choose to buy their groceries online.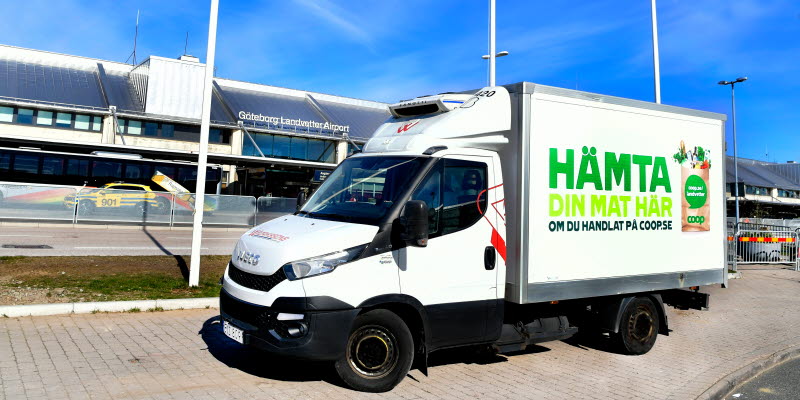 When people fly, for leisure or on the job, it can be difficult to get their groceries, and they often come home to an empty fridge. People can buy groceries online wherever they are, but so far they have been able to have them delivered to their home or pick them up in a physical store. Starting April 16, Coop is setting up a delivery solution that allows people who shop at coop.se to opt to pick up their groceries at Göteborg Landvetter. This is the first time such a service has been offered in Sweden.
"Göteborg Landvetter is an important hub in the Gothenburg region, with a lot of people on the move. Now you can pick up your groceries right after you've landed, a service that we at Coop are the first to offer in Sweden. We see a big increase in online shopping for groceries in western Sweden, and we want to be on our toes so we can develop new solutions for our customers and members," says Ronnie Wångdahl, managing director of Coop Väst.
The way it works is the same as for ordering a home delivery or pick-up at one of Coop's stores. Once someone is done shopping and selected the items they want and are ready to choose the type of delivery, they can choose Göteborg Landvetter as their pick-up point. Then they choose the day and time they want to pick up their order. The delivery truck from coop.se will be outside the airport's arrival hall.
"We are pleased that Coop has chosen Göteborg Landvetter has the first site in Sweden for its launch. This service is something that many passengers have asked for in order to avoid coming home to an empty fridge after their trip. Airports are ideal for launching new set-ups, with more than 19,000 daily passengers a day who are open to trying something new. We therefore consider it an ideal venue for working in partnership with Coop," says Charlotte Ljunggren, director of marketing and commercial business at Swedavia.
During the trial period, Coop wants to see how the service is received by passengers and how it complements Coop Online's full range of products. In the next phase, there is the option of setting up similar solutions at other sites and hubs in Sweden.
"If someone shops online, they expect flexible solutions for having their groceries delivered. Deliveries should be made to where the customer is regardless of whether they are at home or on the move. With the findings from this trial, we will be well equipped to offer similar solutions at other sites that the customer expects us to be," says Catrin Folkesson, director of the Coop Online business area.
Orders can be placed at www.coop.se by 11:59 p.m. at the latest on the day before the order is picked up. Groceries can be picked up Monday to Friday, 4:00-7:00 p.m.