Landvetter welcomes the first commercial air route to be fuelled by 50 per cent sustainable aviation fuel
2022-12-02, kl. 09:10
As an airport operator, Swedavia works to promote the switch to sustainable aviation fuel (SAF), with its goal to have five per cent of all fuel used for refuelling at Swedish airports be fossil-free by 2025. There will now be a new opportunity to fly with a significantly lower carbon footprint when the first route using 50 per cent SAF is launched. Braathens Regional Airlines (BRA) will fly twice weekly between Göteborg Landvetter Airport and Lyon-Saint Exupéry Airport in France using renewable SAF biofuel. The new route will thus be the most sustainable fuel-powered commercial route in the world.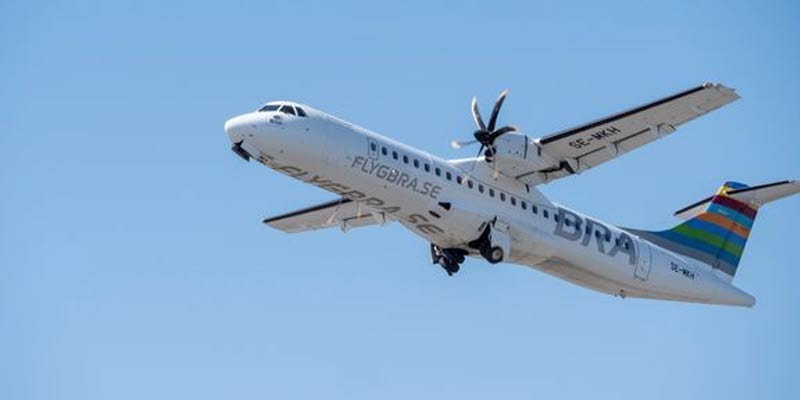 "It is an important step towards fossil-free aviation that Volvo Group is now taking together with BRA, and it is really gratifying that Göteborg Landvetter Airport has the privilege to welcome that here. A blend of 50 per cent sustainable biofuel enables people to travel on business and at the same time reduce their carbon footprint. Through various programs and collaborations, Swedavia continues to encourage airlines to reduce dependence on fossil fuels and switch to sustainable biofuels" says Anna Strömwall, airport director at Swedavia Göteborg Landvetter Airport.
Swedavia wants the travel of the future to be sustainable. The Swedish government's Fossil-Free Sweden initiative, from which we proceed, also includes the goal to have domestic air transport be completely fossil-free by 2030. For international air transport, all aircraft that take off from Swedavia's airports are to be fossil-free by 2045.
Through increased use of biofuel, Swedavia strives for aviation to have the smallest possible environmental impact. Biofuel contributes to a reduction in fossil carbon dioxide emissions by up to 80 percent. Refueling with renewable biofuel thus creates continued conditions for more sustainable aviation.