Debut for biofuel at Göteborg Landvetter
2017-05-18, kl. 12:49
Today, for the first time at Göteborg Landvetter Airport, aircraft were fuelled using biofuel. This is a big day for climate work in the aviation industry and an important step towards fossil-free domestic air travel in Sweden.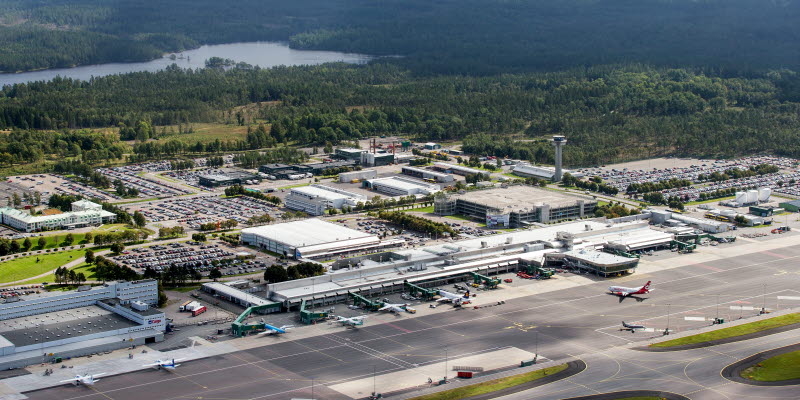 For the first time today, aircraft at Göteborg Landvetter Airport were fuelled using a biofuel blend. This is a result of the Swedish airport operator company Swedavia purchasing a total of 450 tonnes of biofuel in 2017 via the Fly Green Fund*. The amount corresponds to the fuel consumed by all of Swedavia's flights on official business over one year. In 2016, Swedavia was the first company in the world to carry out such an effort and will now repeat it in 2017.
"This is first and foremost a concrete measure to reduce our impact on the climate, but it is just as important for us to demonstrate that even today it is possible to fly using fossil-free fuel," says Charlotte Ljunggren, airport director at Göteborg Landvetter Airport.
The airport operator Swedavia wants to work for fossil-free domestic air travel in Sweden. This is possible but requires large-scale investments in aviation biofuel. Today access to the fuel is limited, and the price is too high for it to compete with fossil fuel. With Swedavia leading the way in purchasing aviation biofuel, the company wants to contribute to increased demand, which is an essential requirement for large-scale production and a competitive price.
"Now we want more companies, public institutions and private individuals to follow our lead and purchase biofuel for their flights. Together we can make domestic air travel in Sweden fossil-free by as early as 2030," Ms Ljunggren notes.
Access to biofuel is limited at present, and there is a risk that biofuel will mostly be used for road traffic, which already has alternative energy sources such as liquefied natural gas and electricity available. The air travel industry currently only has liquid biofuel as an alternative to today's aviation fuel and thus risks falling behind other transport modes if access to biofuel does not increase.
The initiative to buy biofuel for air travel is part of Swedavia's extensive climate work, with its target of zero fossil carbon dioxide emissions from the company's own operations by 2020. Some important measures are the use of vehicles powered by electricity and biogas and the switch from a fossil energy supply to only environmentally sustainable "green" electricity and heating.
The fuel was produced by Altair and delivered by SkyNRG in partnership with AirBP.