Dark histories revealed at Göteborg Landvetter Airport
2017-03-02, kl. 10:17
For the fifth straight year, it is time for an exciting new wall of art in the departure hall at Göteborg Landvetter Airport. Today was the official opening of Tomas Lundgren's exhibition of paintings from his series Schaefer Expedition.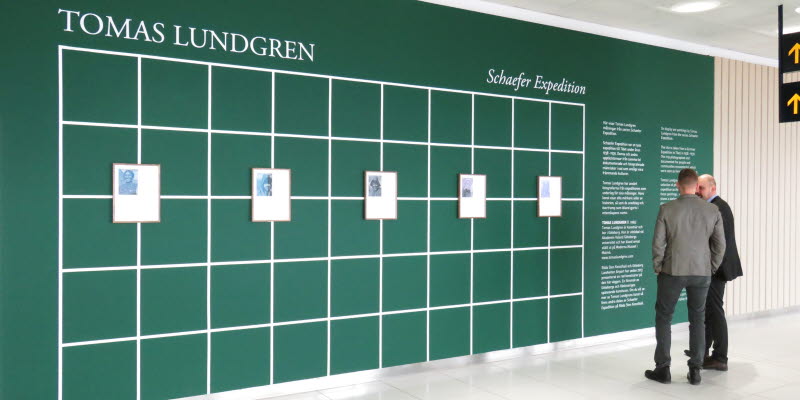 The art venue Röda Sten Konsthall and Göteborg Landvetter Airport have been collaborating since 2013 and have presented a number of artists on a wall in the departure hall at Göteborg Landvetter and the Lounge at Röda Sten Konsthall. This partnership involves boosting Gothenburg as a cultural city and showcasing the region's abundance of culture and art.
"We want to provide a nice range of retail options, world-class service and an enjoyable atmosphere. We also have the ambition to introduce what we call learning environments by whetting our passengers' curiosity and enhancing their experience at the airport. During the year, we expect that more than 6.5 million travellers will visit Göteborg Landvetter Airport. The Louvre in Paris, by comparison, had 7.3 million visitors last year, so it really is a unique opportunity to be seen," says Charlotte Ljunggren, airport director at Göteborg Landvetter Airport.
Tomas Lundgren (born 1985) lives and works in Gothenburg; he studied at the Malmö Art Academy and Valand Academy at the University of Gothenburg's Faculty of Fine, Applied and Performing Arts. He has held exhibitions at such venues as Moderna Museet in Malmö, Färgfabriken and Galleri Thomas Wallner. In 2014, he received the Fredrik Roos Art Grant and in 2016 was given the Beckers Art Award.
Lundgren's art depicts the dark sides of history, such as the sidestepping or ethical overstepping sometimes done in the name of science. The title, Schaefer Expedition, is taken from a German expedition to Tibet in the 1930s that documented and photographed the people who lived there.
"I am interested in how the view of modern Western man was created in the 19th and 20th century, in part through this type of expedition," Tomas Lundgren says.
The exhibition will grace the wall of art at Göteborg Landvetter Airport in 2017, and the second half of Schaefer Expedition will officially open at Röda Sten Konsthall on March 1.