Swedavia employees awarded environmental prize for work with geofilter at Stockholm Arlanda Airport
2017-05-09, kl. 11:35
On Wednesday, Swedavia employees Erik Forsberg and Alexander Mattsson received the Xylem Award, an environmental prize handed out by Föreningen Vatten, a Swedish non-profit association that promotes knowledge about water and water conservation. The award was given to Forsberg and Mattson to spotlight their work with cadmium cleaning using a geofilter at Stockholm Arlanda Airport, which has helped reduce the airport's cadmium emissions to the lowest level ever.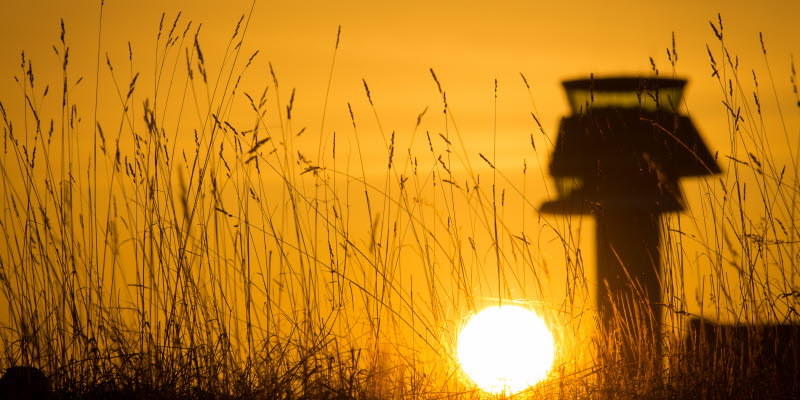 The 2017 Xylem Award was presented to Erik Forsberg and Alexander Mattsson, with the following explanation:
Erik Forsberg is a wastewater engineer and Alexander Mattsson is an operations technician at Swedavia Arlanda. Based on Forsberg's excellent upstream efforts and good leadership plus Mattsson's curiosity and problem-solving abilities, they have worked to solve one of Stockholm Arlanda's particular environmental concerns – cadmium emissions into the airport's surface water, surface water that was once transported untreated to the Käppala wastewater treatment plant. It turns out that their chosen method has led to a 70-80% reduction in cadmium, the result of diligent work and a positive outlook. Forsberg and Mattsson's successful work is a fundamental example of a practical solution for more long-term concerns in the wastewater sector – how to reduce the flow of cadmium to our wastewater treatment facilities.
"It feels really great to receive this award, which draws attention to the vital work that we do at Swedavia in water conservation, and I hope our work can inspire and help others with similar problems," says Erik Forsberg, a wastewater engineer at Stockholm Arlanda Airport.
Stockholm Arlanda Airport has never had such low cadmium emissions as now. This is thanks to diligent work led by wastewater engineer Erik Forsberg, who together with other water and sewage operations at the airport has taken important measures to reduce emissions. Some of this work involves the installation of a geofilter, a wastewater treatment facility for surface water containing glycol that enters the wastewater network. Alexander Mattsson, a wastewater operations technician, is responsible for optimising the operation of this facility. The target is for the cadmium content of wastewater leaving Stockholm Arlanda Airport to have a maximum of 0.1 µg/litre by 2020, which corresponds to 75 g in transport.
At Swedavia, we decided early on to be really good in our area of responsibility, that is, operating airports. Today we are an international role model in developing climate-smart airports. Meanwhile, we look for environmental partnerships beyond our operations, for example, with the air travel industry. Read more about Swedavia's environmental work at About Swedavia – Environment.