Stockholm Arlanda welcomes Singapore Airlines and its Airbus A350 to Stockholm
2017-05-30, kl. 17:18
Singapore Airlines is ranked as one of the world's top airlines. Today was the inauguration of the carrier' new connection between Stockholm Arlanda Airport and Changi Airport, which is one of the fastest routes between Singapore and Sweden. It was also the debut at Stockholm Arlanda for the Airbus A350 aircraft model, which is now being operated in scheduled traffic for the first time at the airport.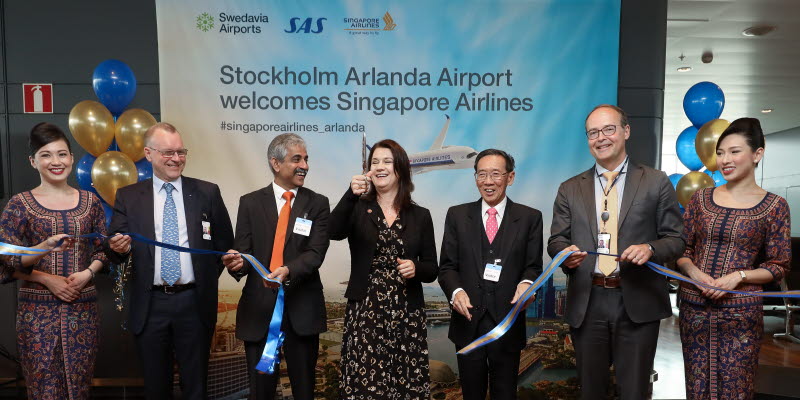 Economic growth in the Stockholm region has increased by 64 per cent over the past ten years, and a large number of Swedish international companies depend on the Asian market. More and more of them are setting up their Asian head offices in Singapore, which overall is one of the most desired destinations from Stockholm Arlanda, both for business and leisure travellers. Passengers can quickly fly via Changi Airport to destinations throughout Southeast Asia as well as to Australia and New Zealand.
"The new route to Singapore is the result of several years of intense work, and it is a highly desired destination. The route is crucial in enabling business travellers to reach markets in Asia easily and also provides potential for greater cargo traffic between the two countries. It is a strategically important intercontinental route in Stockholm Arlanda's development to be the leading airport in Scandinavia by 2020," says Jonas Abrahamsson, president and CEO of Swedavia.
"Stockholm is an important addition to our Singapore Airlines network. Flights to Sweden will enlarge our European network to 11 countries and 15 destinations" says Regional Vice President Europe, Mr. Subhas Menon.
Singapore Airlines will be the first airline at Stockholm Arlanda to operate Airbus's brand-new A350-900 model. It is one of the world's most modern aircraft and is constructed using lightweight material that makes it quiet and energy-efficient.
The route will be served five times a week, with departures from Stockholm Arlanda to Singapore, Changi Airport, via Moscow. Because of the early arrival time in Changi, 6.15 a.m. local time, passengers have many options for convenient connecting flights. Singapore's Changi Airport has been voted the world's best airport for four years in a row and is a destination in its own right.
Inaugural for the new Stockholm-Singapore route at Stockholm Arlanda today. From left to right: Beth Soh Singapore Airlines, Hans Ollongren SAS, Subhas Menon Singapore Airlines, Ann Linde Minister of the European Union and Trade Minister,, Subhas Menon Singapore Airlines, Mr Quek Singapores Ambassador in Sweden, Jonas Abrahamsson Swedavia, Yvonne Ong Singapore Airlines.