International traffic increased 10 per cent in November at Swedavia's airports
2016-12-08, kl. 09:47
Passenger growth at Swedavia's ten airports continued during November. International traffic increased a full 10 per cent while domestic traffic overall was on par with volume in November 2015.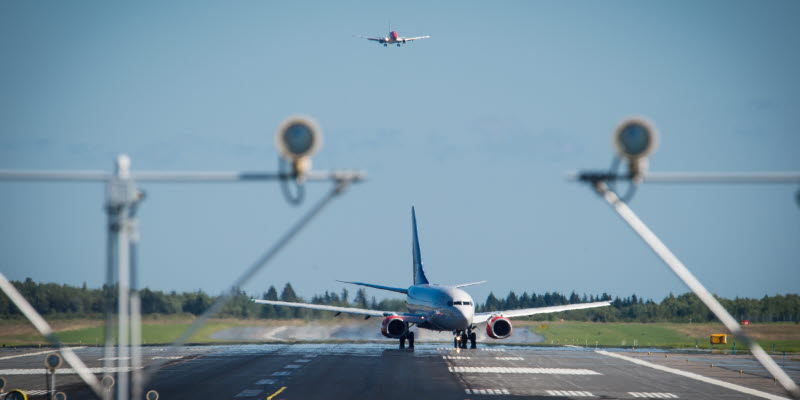 A total of 36,515,000 passengers flew to or from Swedavia's airports during the January-November period this year. That is an increase of about 1.6 million passengers (5 per cent) compared to the same period last year. So far this year, there has been an increase in both international (up 6 per cent) and domestic passenger volume (up 3 per cent). Some 23,888,000 people flew internationally and 12,626,000 flew domestically during the first eleven months of the year.

During November, 3,201,000 passengers flew to or from one of Swedavia's ten airports, a 6 per cent increase compared to last year. Some 1,938,000 passengers flew internationally (up 10 per cent) and 1,262,000 (0 per cent) flew domestically in November 2016. Passenger volume in European traffic increased 9 per cent, while traffic to and from the rest of the world increased 12 per cent.

The number of landings at Swedavia's airports in November totalled about 18,000, which is a 3 per cent increase compared to last year.

At Stockholm Arlanda Airport, passenger volume increased 9 per cent in November compared to the same month in 2015. The number of international passengers was up 11 per cent, while the number of domestic passengers was up 7 per cent. So far this year, 22,819,000 passengers have flown to or from Stockholm Arlanda, which is a 6 per cent increase compared to 2015.

At Sweden's second largest airport, Göteborg Landvetter Airport, passenger volume also increased, with growth of 4 per cent in November. The total number of passengers at Göteborg Landvetter after the first eleven months of the year was 5,921,000.

In contrast, Bromma Stockholm Airport saw a decline in passenger volume in November, down 6 per cent, but volume so far in 2016 is unchanged (a total of 2,311,000 passengers). The decrease at Bromma Stockholm in November is mostly due to two events. First, the 2016 autumn school holiday fell entirely during November, and second winter weather caused traffic problems for two days. This had an especially heavy impact on Bromma Stockholm, a hub for Sweden's domestic traffic.

Among Swedavia's ten airports, Kiruna Airport showed the greatest growth in November, 15 per cent (18,400 passengers compared to 15,900 in November last year).
Key figures after eleven months, 2016:
36.5 million passengers at Swedavia's airports
The number of international passengers increased most, 10 per cent
The number of domestic passengers increased 3 per cent
The number of passengers increased at seven Swedavia airports during November