Bridge will be gateway to Göteborg Landvetter Airport
2016-10-12, kl. 09:51
The development to handle growing traffic is going full speed at Göteborg Landvetter Airport. A bridge is now being built to ensure infrastructure in the area and create a new gateway to western Sweden's international airport.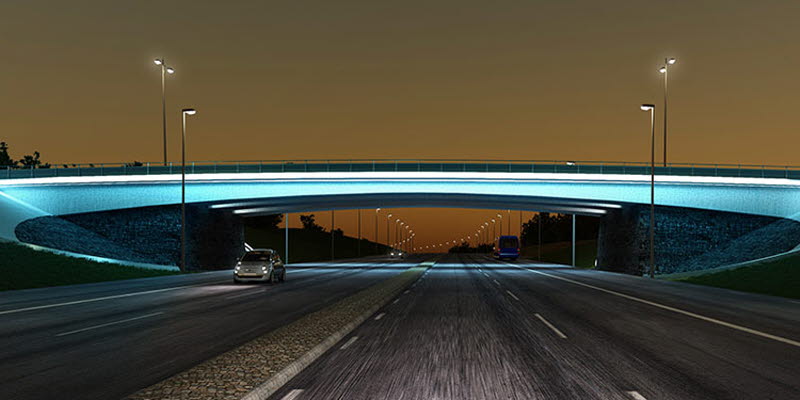 The new bridge over the Flygplatsvägen airport access road and adjacent aprons as well as roundabouts, walkways and cycle lanes will be built to handle the development now under way and in the future at Göteborg Landvetter Airport.
"The bridge's primary function is naturally transport, but given its location at the road entrance to the airport, the bridge will be a welcoming gateway to the Göteborg Landvetter Airport of the future and to the rest of the world. The bridge will welcome visitors, guide them and create a positive sense of anticipation – for locals and, of course, for people coming to western Sweden from other countries," says Charlotte Ljunggren, airport director at Göteborg Landvetter Airport.
With its design and use of materials, the bridge will create an ellipse-shaped gateway which will enhance the impression of being on one's way, especially in the evening light. The materials selected for the bridge will be predominately smooth concrete and black diabase (dolerite). Sustainability over time is an integral theme of the project in terms of the choice of materials, function and operation.
The new bridge will be important for creating an efficient transport flow to and from the airport for operations already in the area. It will also be a vital link in the Airport City that is now taking shape between Route 40 and the airport, on both sides of the entrance road to the terminal.
"It is really great that Svevia will built it as a gateway to the airport and as an important part of the development for the entire area. We feel inspired. It will be fun to bring into being an important component of Swedavia's plans for the new Göteborg Landvetter Airport," says Anna-Karin Wärn, construction manager at Svevia.
Preparatory work for the bridge is under way. The bridge will be completed and put into service in autumn 2017.
Göteborg Landvetter Airport has had strong passenger growth in recent years and in 2015 had 6.2 million passengers. The airport is developing and expanding at full speed in order to meet the region's growing needs. An expanded terminal, a new hotel, preparations for a rail link and an Airport City with workspace for 10,000 people are some of the projects under construction right now and being planned for the near future.