Architects to compete in design of new hotel at Göteborg Landvetter
2016-03-01, kl. 11:27
A new hotel is planned at Göteborg Landvetter Airport, and Swedavia has now announced a project competition to come up with a winning proposal for the design of the hotel building. The hotel will have up to eight storeys and be located by the terminal, close to check-in for flights and the future rail station.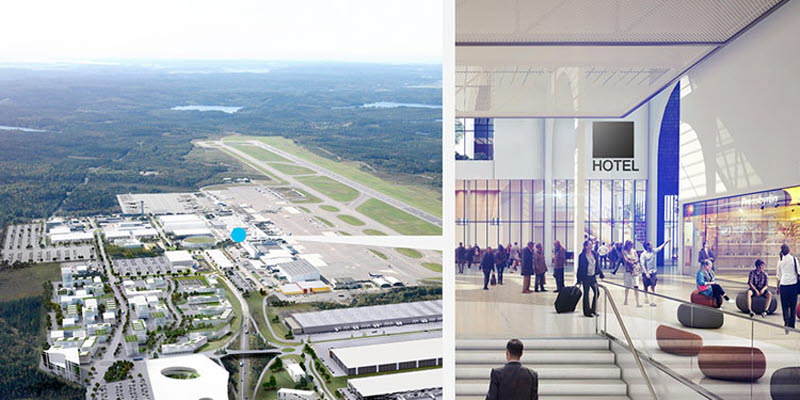 "Göteborg Landvetter is the European airport that has added the most new routes over the past year. Traffic increased from 5.2 million passengers in 2014 to 6.1 million passengers in 2015. With a catchment area for international and charter traffic that covers all of western Sweden, and even up to southern Norway, we see that a new hotel is really needed at Göteborg Landvetter," says Charlotte Ljunggren, airport director at Göteborg Landvetter Airport.
There is currently demand for additional hotel capacity at Göteborg Landvetter Airport, and given forecast growth in air traffic, this demand is expected to increase. The hotel market in Gothenburg is dominated by hotels in the upper midscale and higher segments, whereas demand for midscale hotels is expected to increase in the long term.
Market surveys indicate that there is room for a hotel at the airport, which should offer 150-200 guest rooms.
"A new hotel at Göteborg Landvetter will be an option for a family from a town like Skara, located 100 km from the airport, that is flying charter early the next morning. They should be able to arrive the evening before, stay the night and then be close to their flight for the next day's journey," Ms Ljunggren notes.
Göteborg Landvetter Airport is planning and building for the future and for the growing need for air travel in the region. In addition to the planning of a new hotel, work is in full swing to expand the terminal with new gates and areas for passengers, create a rail connection and prepare some of the two million square metres of land for Airport City, which is starting to take shape. Operations in Airport City in areas such as logistics, retail and offices will create 10,000 new jobs in the region.
In the first phase, Swedavia will select five architects to compete in designing the future hotel. Among the conditions that the architects must meet are that the hotel must be located in the northern section of the terminal, be eight storeys high with the possibility of a view over the runway area and have a direct connection to the terminal as well as to the future rail station and other mass transit.
The new hotel is planned for completion in 2019.