The environment at Umeå Airport
Umeå Airport is owned and operated by Swedavia, which works continuously to reduce its environmental impact under the ISO 14001 environmental management system. In autumn 1999, Umeå Airport was the first airport in Sweden to be environmentally certified.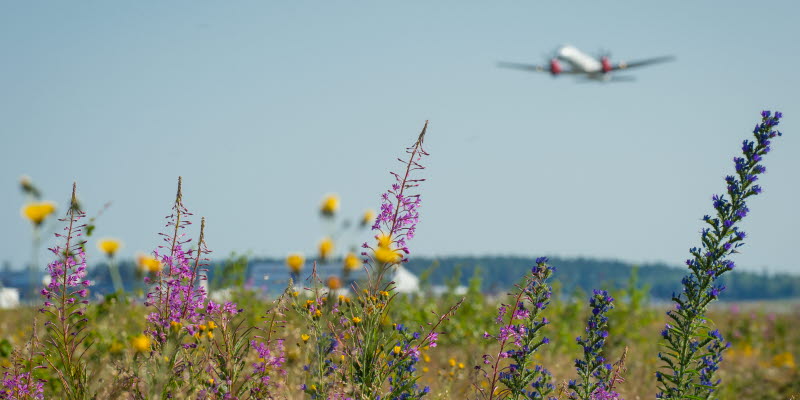 Our zero vision
In 2020, Swedavia reached its goal of zero fossil carbon dioxide emissions from its own airport operations.
There is extensive work behind our success in achieving zero fossil carbon dioxide emissions. We purchase green electricity for all of our operations, our uninterruptible power supply runs on hydrotreated vegetable oil (HVO), our vehicle fleet runs on HVO, fossil-free gas or green electricity, and we purchase biogasol and biogas.
Read more about our work with our zero emissions goal, what else we do and what you can do to contribute to aviation's transition to net zero operations.
Expanded climate work
All of Swedavia's airports are accredited at the ACA 3+ level in accordance with Airport Council International (ACI) Europe's standards for the climate work of airports. That means our airports continuously reduce fossil carbon dioxide emissions from their own operations, offset the emissions that have not yet been reduced and help other businesses operating at the airports to reduce their emissions. At the end of 2020, we achieved our fossil carbon dioxide emissions goal for the airport operations run under our own management. 
The next goal is to have all the airports accredited at the ACA 4+ level, which means that agents for de-icing runways/aircraft and coolants will be included in the measurements. We shall also work to a greater extent to engage and work together with other companies and organisations that have significant carbon dioxide emissions at the airports in order to continue reducing emissions together. Over time, all the operations at our airports will switch to renewable energy sources. This work is in line with the Intergovernmental Panel on Climate Change's goal not to exceed a 1.5 C degree rise in global warming as well as Swedavia's strategy and goals for proactive climate change adaptation.
You can read more about the programme here.
How the airport affects the environment
Aviation's environmental impact is vital to the industry and thus to the airport. It is therefore important to continuously strive to reduce the airport's negative environmental impact. This is done mainly be reducing greenhouse gas emissions, reducing other atmospheric emissions and discharges to water, and minimising chemical and waste production.
Swedavia naturally complies with environmental laws in effect and other applicable national and international regulations and requirements. The airport operator also works to limit aviation noise and emissions from airport operations. To achieve this, it requires working based on the following strategies:
Concern for the environment shall be intrinsic to every part of operations and be taken into account in decisions.
The aviation industry's most important environmental issue is its climate impact, which is to be given priority in all decisions and activities.
Swedavia shall continuously improve the energy efficiency of its operations and steer them towards more sustainable resource use.
All of Swedavia's employees shall be involved in the company's environmental work and be familiar with relevant environmental laws.
Swedavia shall assess and manage the environmental risks of operations in a systematic way.
Swedavia shall play an active part in local, regional, national and international work aimed at reducing the negative environmental impact of the aviation industry and work for the sustainable development of airports.
Environmental management system
At Umeå Airport, work is continuously carried out to reduce its environmental impact, and the airport puts great emphasis on working with environmental issues in a structured and systematic way.
The airport is certified under the ISO 14 001 environmental management system. Certification entails not just satisfying the requirements of environmental authorities but also meeting the general environmental goals and specific environmental targets set for Umeå Airport.
Both internal and external environmental audits are conducted at the airport. The aim of these audits is to verify that the environmental management system is being used and is both sufficient and effective. Continuous improvement work is under way, entailing more rigorous requirements, which means that each year there are also more stringent environmental goals and targets.
Environmental projects
Electric aircraft
In 2023, a feasibility study on future energy needs will be carried out so that more energy can be ordered for the airport from local energy companies and a plan can be developed for local infrastructure to satisfy future needs for charging points for commercial aircraft. Two students from Linköping University will also separately carry out work for their degree related to these questions about the future and the airport's transition to fossil-free aviation.
Local energy hub
In 2023, a feasibility study will investigate the possibility of developing the airport into an energy hub by installing solar panels in the immediate vicinity of the airport. The aim is to produce a surplus of energy, more than the airport consumes today and is expected to use in the future, to meet the needs of tomorrow for electric charging points for commercial aircraft and vehicular traffic.
Drone pilot project 
This project is aimed at using drones – autonomous or manually operated – in order to find/identify wildlife and remove birds from the grass verge along the landing runway. The drone will carry loudspeakers that broadcast music/sounds that scare off wildlife.
FFFLY
Swedavia and Umeå Airport have been partners in the Municipality of Umeå's fossil-free aviation project FFFLY. The project has involved analyses and preparation of an action plan for how air transport to and from Umeå can be made fossil-free using sustainable aviation fuel (SAF), electric aircraft, hydrogen gas and electrofuels. Swedavia, through John Nilsson, has been responsible for Work Package 2, dealing with electric aircraft, in which we looked at the possibilities and needs for establishing charging infrastructure for electric aircraft at Umeå Airport.  
Climate roadmap
Umeå Airport has signed onto the Municipality of Umeå's climate roadmap and, among other moves, has become involved in the strategic group for communication and transport. For more information, see the link below (in Swedish).
Umeå climate roadmap - Municipality of Umeå (umea.se)
Operations contract
Swedavia has developed a new template for its operations contracts, which clearly requires operators at the airport to take an environmental perspective in their work.  Umeå Airport has launched a dialogue with operators at the airport to introduce the new operations contract model, which will be implemented in 2023.
For information about aircraft movements, Swedavia currently suggests that people use public tools such as Flightradar24.com.
The Webtrak tool that we previously made available here on our website is being reviewed, and we are exploring the possibilities of using other data sources. This is in order to once again enable people living in the vicinity of our airports to track air traffic movements. It will also be possible to connect this information to aviation noise measurements where available.