The environment at Umeå Airport
Umeå Airport is owned and operated by Swedavia, which works continuously to reduce its environmental impact under the ISO 14001 environmental management system. In autumn 1999, Umeå Airport was the first airport in Sweden to be environmentally certified.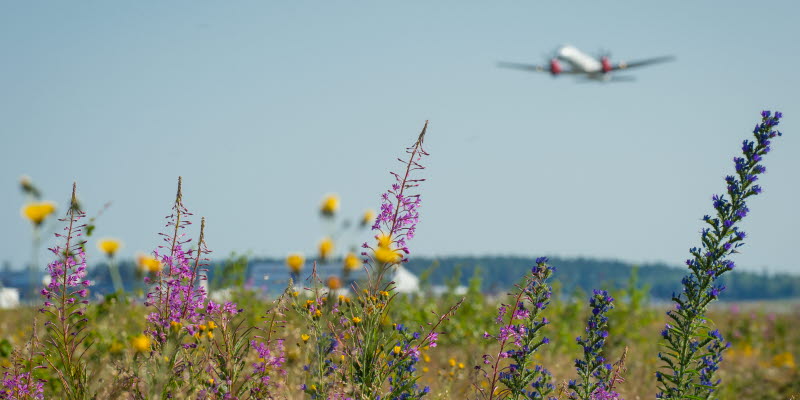 Our zero vision
In 2020, Swedavia reached its goal of zero fossil carbon dioxide emissions from its own airport operations.
There is extensive work behind our success in achieving zero fossil carbon dioxide emissions. We purchase green electricity for all of our operations, our uninterruptible power supply runs on hydrotreated vegetable oil (HVO), our vehicle fleet runs on HVO, fossil-free gas or green electricity, and we purchase biogasol and biogas.
Read more about our work with our zero emissions goal, what else we do and what you can do to contribute to aviation's transition to net zero operations.
Expanded climate work
All of Swedavia's airports are accredited at the ACA 3+ level in accordance with Airport Council International (ACI) Europe's standards for the climate work of airports. That means our airports continuously reduce fossil carbon dioxide emissions from their own operations, offset the emissions that have not yet been reduced and help other businesses operating at the airports to reduce their emissions. At the end of 2020, we achieved our fossil carbon dioxide emissions goal for the airport operations run under our own management. 
The next goal is to have all the airports accredited at the ACA 4+ level, which means that agents for de-icing runways/aircraft and coolants will be included in the measurements. We shall also work to a greater extent to engage and work together with other companies and organisations that have significant carbon dioxide emissions at the airports in order to continue reducing emissions together. Over time, all the operations at our airports will switch to renewable energy sources. This work is in line with the Intergovernmental Panel on Climate Change's goal not to exceed a 1.5 C degree rise in global warming as well as Swedavia's strategy and goals for proactive climate change adaptation.
You can read more about the programme here.
How the airport affects the environment
Aviation is an efficient transport mode that among other things helps businesses, which strengthens the economy, while also giving people the opportunity to travel. But aviation also has a negative environmental impact. Umeå Airport works systematically to try to reduce the impact from its own operations and also influence other companies and organisations operating at the airport.
Soil and water
Glycol is sprayed on aircraft in winter to prevent the formation of ice. Spilt glycol causes oxygen depletion in water. The spilt glycol that ends up on the ground after the aircraft has been de-iced is suctioned up by a glycol recovery vehicle. The fluid is then stored until it is transported to Luleå Airport, which cleans the spilt glycol and reuses this purified glycol in its de-icing procedure.
Urea is used for anti-skid treatment of landing runways. At many airports, urea has been replaced by new acetate-based agents. Nitrogen from urea contributes to eutrophication (excess fertilisation).
Water at Umeå Airport is transported through the surface water system, which empties into the Ume river. The airport has four sampling points that are continuously monitored under a control programmes developed in partnership with the regulatory authority. A recent investigation showed that the glycol added to the Ume river accounts for a maximum of 0.2 per cent of total organic carbon (TOC) conveyed into the river during the de-icing season.
Swedavia, which owns and operates Umeå Airport, carried out a PCB inventory of building materials containing PCBs at the airport in 2007. It was noted in the study and in analyses of its soil survey that the airport does not have any contaminants that require remediation.
Air
Umeå Airport heats all of its buildings with carbon-neutral district heating. Another way to reduce atmospheric emissions is for Umeå Airport to encourage airlines to use modern aircraft, which are better for the environment – take-off charges are lower the cleaner an aircraft's engines are. The aim is to prompt airlines with older aircraft to replace them with more environmentally-friendly alternatives.
Waste
There are two recycling centres in the terminal that tenants use to sort waste. Umeå Airport's staff manage the waste and temporarily store it at the airport's environmental station. The material is then picked up by an approved contractor, who transports the different categories of waste to the appropriate waste station. All combustible material is recycled as district heating apart from paper and cardboard, which is sent to a sorting facility in Holmsund, which makes sure that the materials are sent for recycling.
Noise
The airport implements noise insulation measures for homes exposed to aviation noise. The aim of these noise-limitation measures is to ensure that the constant aviation noise index indoors does not exceed 30 dB(A) and the maximum noise level indoors at night does not exceed 45dB(A) for normally occurring aircraft types. These homes are mostly in Storsandskär, Myrsand, Bergsboda and Hällastrand. The airport prepares a flight path monitoring report each quarter, which it submits to the regulatory authority.
For information about aircraft movements, Swedavia currently suggests that people use public tools such as Flightradar24.com.
The Webtrak tool that we previously made available here on our website is being reviewed, and we are exploring the possibilities of using other data sources. This is in order to once again enable people living in the vicinity of our airports to track air traffic movements. It will also be possible to connect this information to aviation noise measurements where available.