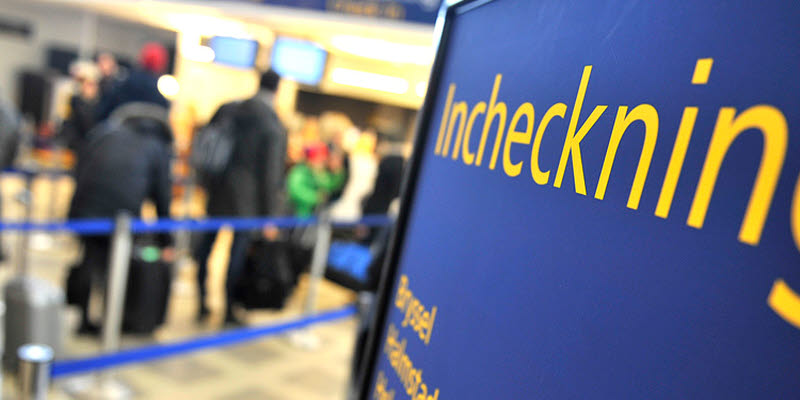 Check in at the self-service check-in machines, or at the check-in desks.
Self-service check-in machines
Instructions:
Write you booking reference.
Boarding card and baggage tag/tags are printed.
Put you baggage tag/tags on all your luggage.
Leave you baggage in the bagdrop.
When is the latest check-in time?
Different airlines have different regulations regarding latest check-in times. Check with your airline before travellling. You must be prepared to show identification so take your ID card or passport with you, depending on where you are travelling.
EU passenger rights
Under Regulation (EC) 261/ 2004, passengers are entitled to compensation if their flight is cancelled or delayed at least two hours. There is information about this posted at the check-in counter and at the gate by the exit to the aircraft.
The Swedish Consumer Agency's travel guide includes a description of what rights you have as a passenger before, during and after your journey. You will find information here about what applies for travel by air, rail, bus, boat and taxi as well as for package trips:
The Swedish Consumer Agency's website (new window)
You will also find information about your rights as a passenger on every airline's website.
You must be able to show your identification when you are travelling. Consider that sometimes a visa may be required.
Passports
When you travel abroad, you need to show your identification, either with a passport or national ID card.
If you have a Swedish passport, you can get more information from the police, or alternatively contact your embassy.
Swedish Police website (new window).
Some countries require that your passport is valid for a given period of time after your entry. You should find out what requirements apply in the country you are travelling to. Consult the embassy or consulate of the country in question.
Visas
A visa is required for travel to certain countries. Contact your travel agency or the country's embassy for more information about visas and their application process.
Passenger security checkpoints
When you travel to countries within the the Schengen cooperation area, there will be no border check in conjunction with your arrival. However, some airlines still require a valid passport or national ID in conjunction with the flight. You will also need to verify your identity with a passport or national ID during your stay in the country you are visiting. We therefore recommend that passengers always bring a valid passport and ID.
For trips to countries outside the EU, border checks are carried out, and you must be able to provide a valid passport, as before.