Bromma Stockholm Airport now even better at snow removal
2018-03-16, kl. 13:39
Swedavia is one of the best airport operators in the world at removing snow from take-off and landing runways. And rapid advances are being made. At Bromma Stockholm, the snow removal process will now be simplified even further. There will be major benefits to the airport as a result of the digital SNOWTAM message system developed and a new Runway Weather Information System.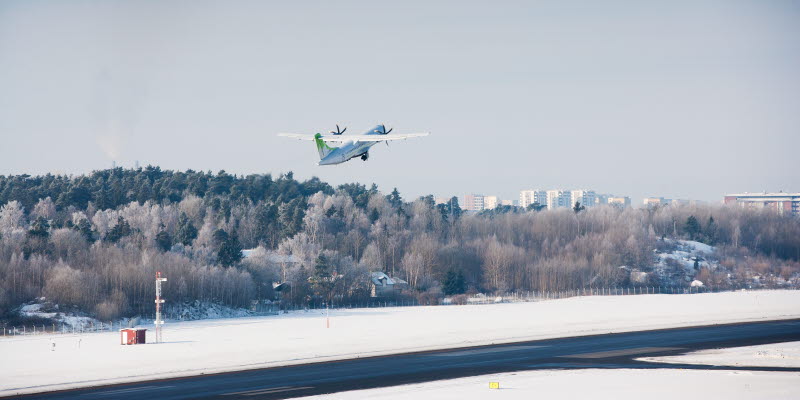 "The objective has been to get better timing for the entire flow of the take-off and landing process. We will shorten lead times and have as much of the runway available as possible for those that fly with us while at the same time giving top priority to safety and security," says Lars-Erik Lidgren, field maintenance manager at Bromma Stockholm.
SNOWTAM is a system for reporting conditions on take-off and landing runways. It is often handled manually by the snow removal team leaders, and depending on who does the reporting, different information is given in a different order.
"With our SNOWTAM system, we made data transfer more efficient, with the click of a button instead of a lot of writing. It also means that we minimise the risk in terms of sources of error," says Lidgren.
After development of a digital SNOWTAM system, it was time for the next step in the development of more efficient snow removal, which was the introduction of the Swedish Runway Weather Information System (RWIS). Using sensors, the system can measure the freezing point on the runway, what kind of snow it is and how thick the layer is. The project is now four weeks old, with 57 sensors installed on the runway at Bromma Stockholm. It is the first of its size in Sweden and a major step for all of Swedavia.
"RWIS is a bit of a revolution for Swedavia. Along with more efficient access to the take-off and landing runways, there are major economic and environmental benefits. We will save up to 30 per cent on formiate, which is good for the environment and reduces costs," Lidgren concludes.