New direct route from Bristol to Åre Östersund Airport with easyJet
2018-07-16, kl. 07:48
EasyJet is expanding and now launching its third direct route to Åre Östersund Airport. Starting in the winter of 2018, the airline will offer a convenient air link from Bristol in southwest England straight to the heart of Jämtland in northern Sweden.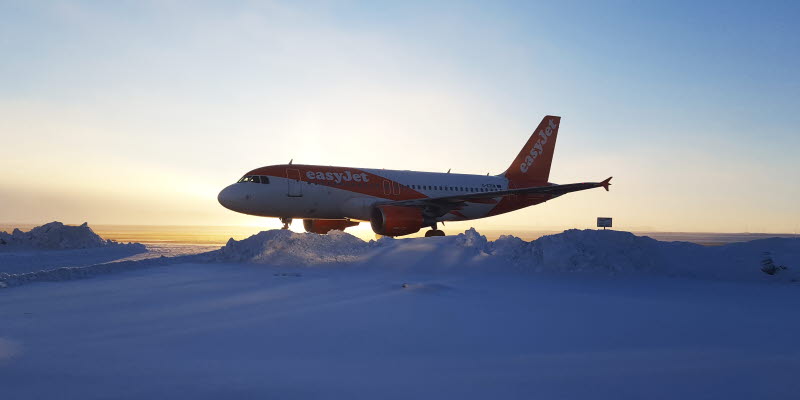 Jämtland, with its authentic nature experiences and winter sport activities, will now be even more accessible for Brits. It will be easy to reach this winter destination with easyJet from Bristol Airport on Sundays beginning December 9. EasyJet already offers scheduled service with two routes from Åre Östersund – to London Gatwick and Copenhagen Kastrup.
"We are pleased and proud that easyJet has chosen to expand by adding another route to Åre Östersund Airport, which is confirmation for the airport and everyone involved in the travel industry. The 2017/2018 winter season had an 89 per cent increase in passengers coming from England to our airport compared to the 2016/2017 winter season. Now it will be even easier for Brits to experience the winter in northern Sweden," says Peter Fahlén, airport director at Åre Östersund Airport.
"Three destinations within the space of three years is growth beyond our expectations but also clear evidence of the development work carried out by many entrepreneurs involved in the tourism industry to make us a very attractive destination within a short period. We will now continue the work to increase awareness of our fantastic region, this time with a focus on Bristol and the surrounding area," says Karin Gydemo Grahnlöf, from the local tourism organisation, Jämtland Härjedalen Turism.
Bristol, in southwest England, is a city with a lot of history and which in recent years has grown into a hot spot among tourists for culture and creativity. It is easy to continue on from Bristol to the nearby classic city of Bath, the beaches of Cornwall, the green landscape of Devon or southern Wales.