Eurowings sets up new direct routes to Stuttgart from Kiruna and Luleå
2021-07-01, kl. 11:38
The German low-cost carrier Eurowings sees even more opportunities in the Swedish market and for the first time is expanding its range of destinations to include northern Sweden, with a new route to Stuttgart from both Kiruna and Luleå.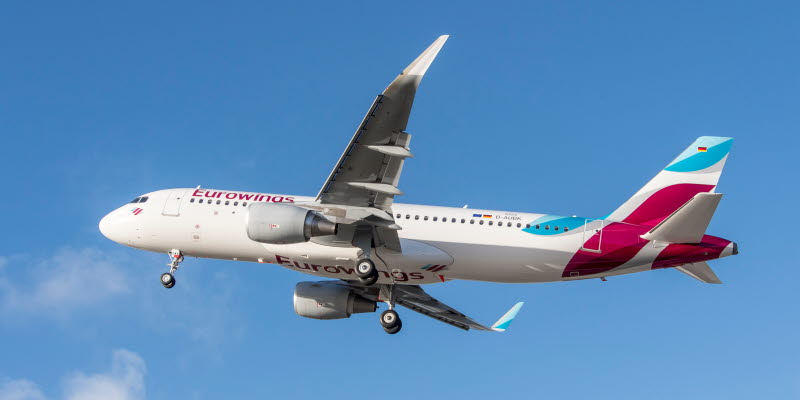 Eurowings, part of the Lufthansa Group, currently serves Stockholm Arlanda, Göteborg Landvetter and Malmö Airports and is now also launching operations in northern Sweden with a new direct route to the German city of Stuttgart from both Luleå and Kiruna Airports this winter.
"We welcome Eurowings to Luleå and Kiruna and are naturally really pleased about the expansion in Northern Sweden with the two new routes. The fact that Eurowings sees more opportunities in Sweden and the launch in Kiruna and Luleå, together with the recent opening at Malmö Airport, is a clear indication of the strong position of the regions - and the Swedish market. More direct connections are important for growth in the region, and this access will be important for all of Sweden," says Elizabeth Axtelius, Director Aviation Business at Swedavia Airports.
Attractions in Swedish Lapland, Sweden's Arctic region, such as the Northern Lights, the Ice Hotel and the Arctic experience in general attracts many incoming travellers and the number of European tourists, from Germany specifically, has increased in recent years. In terms of international guest nights, German guest nights were the second largest nationality in Swedish Lapland before the pandemic and increased by nearly 40 percent 2013-2019. Moreover, the region is attractive to the car industry, which is large in Stuttgart and the surrounding area, for testing new cars, tires and engines in winter conditions. The routes are also a welcome addition for people living in northern Sweden who want to visit Germany.
Swedavia Kiruna and Luleå airports have a well-functioning and growing business collaboration with the Swedish Lapland Visitors Board and the hospitality industry in the region, with the common goal of developing a sustainable flight connection.
From December 5 to late March, Eurowings will serve the Luleå Airport – Stuttgart Airport route twice weekly on Wednesdays and Saturdays. For more information about the airline: www.eurowings.com.