Debut for bio jet fuel at Luleå Airport
2019-01-10, kl. 08:41
On January 8, aircraft will be fuelled with bio jet fuel for the first time in the history of Luleå Airport. This is an important milestone in Swedavia and Luleå Airport's environmental efforts to work, together with other participants, towards the target picture of fossil-free domestic air travel in Sweden by 2030.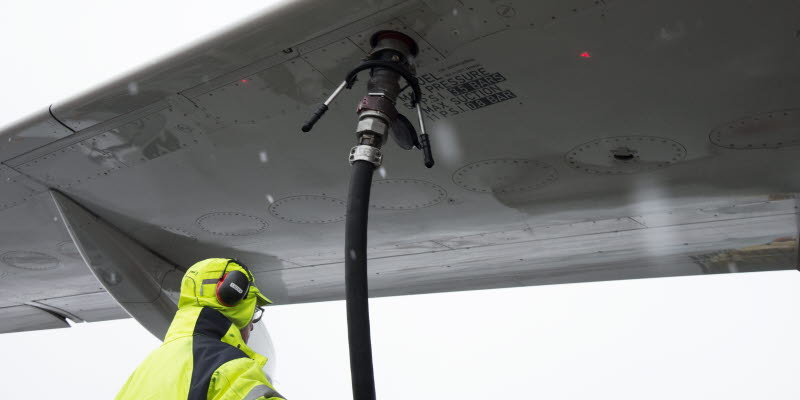 Swedavia purchases bio jet fuel corresponding to the amount used for its business flights, with some of this now having been delivered to Luleå Airport. That makes Swedavia's airports some of the only ones in the world where a percentage of bio jet fuel is used in aircraft serving the airport. Biofuel for aviation is in short supply. At the same time, it is vital to reduce the climate impact of travel.
"We are incredibly pleased to be one of the few companies in the world to have bio jet fuel supplied to us in Luleå. The future of air travel is fossil-free, and with Swedavia leading the way and purchasing renewable jet fuel, we want to contribute to increased demand – which is an essential requirement for large-scale production and a competitive price," says Ann-Christine Viklund, airport director at Luleå Airport.
"Air travel needs to be a future means of transport, and these means need to be sustainable through efficient Swedish air traffic that it runs on fossil-free fuel and through research, development and the production of technologies with a global impact. We need to fight against emissions, not passengers, and it is extremely gratifying for Luleå and Luleå Airport to be able to fuel aircraft for the first time using renewable bio fuel," says Niklas Nordström, municipal commissioner in Luleå.
"We have found a technological solution that we want to demonstrate and show that the fuel currently used in Sweden's domestic air travel can be replaced in the near future by bio jet fuel produced from Swedish forest materials. We know that these production methods work, and we know that there is a very large supply of Swedish forest by-products. In theory, our forest by-products more than meet the need to make bio jet fuel for both domestic and international air traffic in Sweden," says Fredrik Granberg, project manager at the Department of Energy Science at Luleå University of Technology.