Scanian of the Year Andreas Granqvist gets his portrait at Malmö Airport
2018-09-25, kl. 15:24
The Scanian of the Year 2018, named by the readers of the Swedish daily Kvällsposten, is the favourite of the whole of Sweden – "Granen", Andreas Granqvist, who plays football with Helsingborgs IF and has been captain of the Swedish national men's team since 2016. Today he was on hand at Malmö Airport along with airport director Peter Weinhandl, who unveiled the football player's portrait, which will greet all visitors to Scania in the Welcome to My Hometown gallery.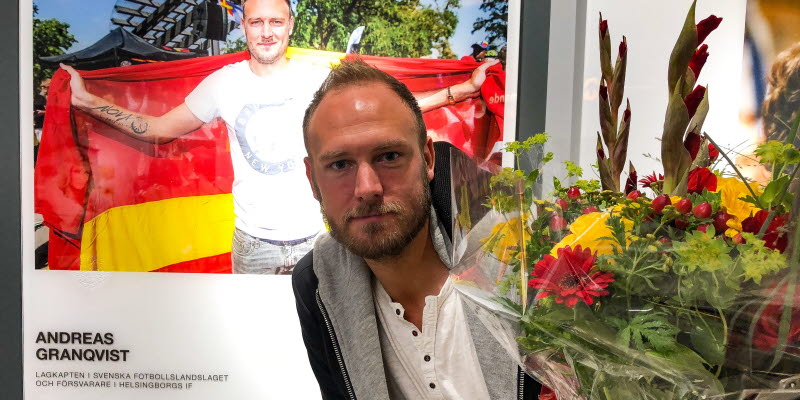 The honour "Scanian of the Year" has been awarded since 1967. For many years, the southern Swedish daily Kvällsposten and the Flag of Scania Foundation have nominated a number of candidates that readers then vote on.
This year the winner was an obvious choice. "The father of the nation" and football player Andreas Granqvist was named Scanian of the Year by a wide margin. Starting today, he will also take his place in the Welcome to My Hometown portrait gallery at Malmö Airport, where he will now be in good company with, among others, Zlatan Ibrahimovic.
"It feels really great. I am incredibly proud to receive this honour. It's a sign that we did something fantastic with the national team in the qualification matches and this past summer. I want to emphasise that we did this as a team, and it's fun to get this honour," says Andreas Granqvist.
The team captain became a national hero during the 2017 qualification round, leading the Swedish team first to victory over the Netherlands and then to a draw and a win against Italy in two play-off matches. He also cemented his status on the football pitch, displaying his fine leadership skills. He was furthermore awarded the Gold Ball 2017 as Sweden's top football player.
"I'm really pleased to welcome Andreas Granqvist to our portrait gallery at Malmö Airport. With the qualities he has shown as a football player and as a human being, I cannot think of a better ambassador for Scania. He is a very worthy winner of the Scanian of the Year award and participant in the Welcome to My Hometown gallery," says Peter Weinhandl, airport director at Malmö Airport.
"Kvällsposten's readers are highly engaged in the Scanian of the Year contest, which is really fun. It was clear this year that Andreas Granqvist was their favourite and we think it is really well-deserved," says Magnus Ringman, editor-in-chief of Kvällsposten.
The reasoning given for the award is as follows: "After his football successes, Andreas Granqvist has become 'Super-Granen' for everyone in Sweden – a fighter, a leader and a good role model both for young people playing football and for the province of Scania. He has been called 'the father of the nation', and with his self-sacrificing ways on the football pitch, he stands out as a perfect leader for the Swedish national football team. He has also moved back home to Scania and his family. Sweden's leading football player and a worthy representative of Sweden's southernmost province – Andreas Granqvist is Scanian of the Year!"