Nationalmuseum to exhibit smart Swedish design at Malmö Airport
2018-02-12, kl. 08:29
The Swedish design world is in an exciting phase, facing technological opportunities but also challenges in order to create a sustainable society. The exhibition Crossing Borders – Smart Design showcases Swedish design products in digital communication, digital production and design for sustainable development. Passengers flying from Malmö Airport will be able to see the exhibition, which opens today and is a collaboration between Sweden's museum of art and design, Nationalmuseum, and Swedavia.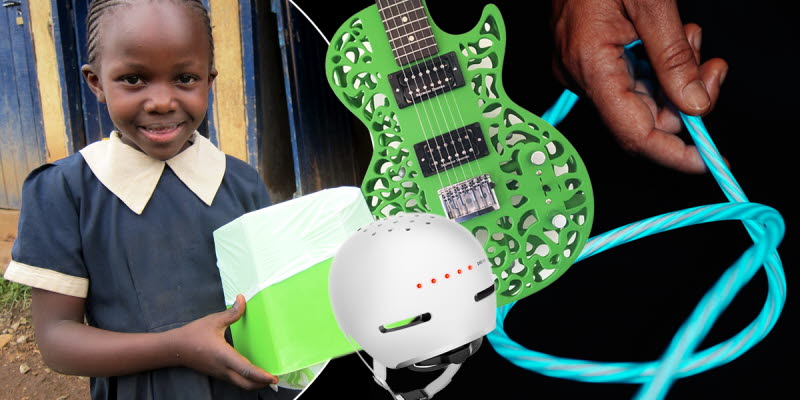 Thanks to digital technology, not only can we communicate with objects in our everyday life, but these things can also communicate with us. Among the objects on display in this exhibition is a bike helmet that can inform anyone in the vicinity that the cyclist is slamming on the brakes or communicate the geographic position of the wearer should that person fall unconscious.
"We are really pleased about the opportunity to present our collaboration with Nationalmuseum and the exhibition series Crossing Borders. Malmö Airport is located in the heart of the innovative Öresund region so we are an excellent venue for showcasing the innovativeness of the whole country. Moreover, it is also a natural part of our work at the airport to offer smooth logistics solutions designed in a way that appeals to our passengers. It is truly a fitting collaboration," says Peter Weinhandl, airport director at Malmö Airport.
The technology of printing in three dimensions (3D printing) enables a radical reduction in the transport of goods and its environmental impact. A guitar on display, designed using a 3D printer, demonstrates the potential of this technology. In the future, will we buy a digital file to make a coffeemaker or mobile phone and print it out at our local grocery store
New research and a design approach that uses resources efficiently can reduce the use of the world's natural resources. An electric cord makes you aware of how much electricity a hair blower uses compared to charging your mobile. A bag contributes to the decreased spread of cholera in densely populated areas that lack access to toilets. Thanks to an enzyme in the bag, waste is quickly broken down and transformed into fertiliser.
"It is exciting being able to spotlight Swedish design that can provide benefits on different levels. Malmö Airport is a good place to show the exhibition since we at Sweden's museum of art and design want to reach the general public all across Sweden," says Birgitta Castenfors, acting superintendent of Nationalmuseum.
The exhibition, which runs from today to the end of May 2018, is part of the partnership between Nationalmuseum and Swedavia to showcase art and design at airports in Sweden.
Nationalmuseum has Sweden's largest collection of works of art, design and industrial design. It consists of some 30,000 objects that range from the 14th century to today.
For further information, please contact:
Per Hedström, director of exhibitions, Nationalmuseum, +46 (0)8-519 43 56, per.hedstrom@nationalmuseum.se
Mattias Robertson, press officer, Nationalmuseum, +46 (0)767-23 46 32, press@nationalmuseum.se
Objects in the exhibition:
Seger Heat System heated socks, Inuheat and Seger
Bike helmet, POC and Forth, POC Sports
Cycling jacket, POC and Forth, POC Sports
Energy-aware clock, RISE Interactive