Maria Lancing to exhibit at Malmö Airport
2017-10-12, kl. 09:52
Raised in Skillinge, on the southern coast of Sweden, with deep maritime roots, Maria Lancing had a fascination early in life with the ancient technique of scrimshaw, etching her first egg at the age of seven. Today is the official opening of this Scanian artist's exhibition of etched goose eggs.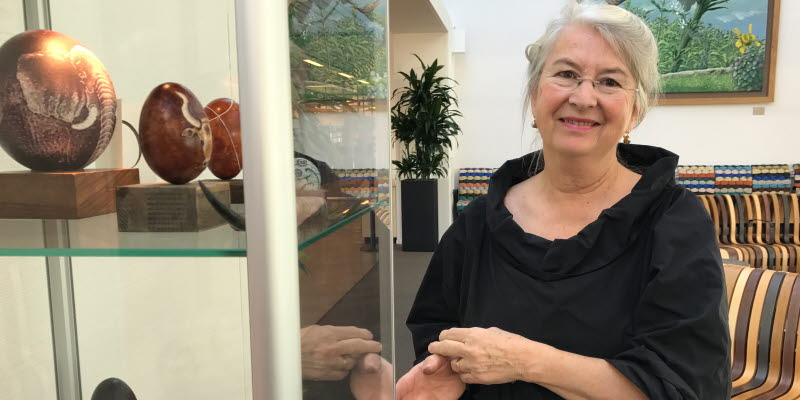 Some of the earliest forms of human expression can be found in etchings made using sharp objects on natural materials – patterns and symbols on everything from animal hides and horns to wood and rock. In antiquity, Hellenistic Greece had its narrative art sketched on vases, while folkloric scratchings on eggshells are found around the world. Nineteenth-century sailors were inspired by the Alaskan Eskimo culture of the Bering Sea and named this technique scrimshaw.
After finishing her studies in ethnology and art history at Lund University, Maria Lancing got the idea of maintaining and developing ancient traditions through art, which she expanded on in her seven years of studies at Konstfack, the University College of Arts, Crafts and Design in Stockholm. Inspired by etched ostrich eggs on a trip to Ethiopia, Lancing wants to convey the strong symbolic value of the egg – with its cosmic form, associations with the earth and the universe, and role as a common denominator of the beginning of life, which unites us all – in her exhibition at Malmö Airport.
"We really want our passengers to encounter something new and unexpected from this region when they come to the airport. Maria Lancing, a well-known Scanian artist, engraves images of ships from Skillinge onto goose eggs with a knife. There is almost nothing more typically Scanian than that," says Peter Weinhandl, airport director at Malmö Airport.
Maria Lancing holds an annual exhibit on the southern coast of Sweden during Easter week. Her work is also represented in most of the major cultural and maritime museums in Sweden and Denmark. She has also exhibited her work in Greece, Finland, Britain and the US.
The exhibition is on airside, in the Oasis.