Debut for bio aviation fuel at Malmö Airport
2017-12-06, kl. 10:16
For the first time today, aircraft at Malmö Airport were fuelled with biofuel. This is an important step in the air travel industry's climate work. Biofuel has the potential to reduce fossil carbon dioxide emissions from air travel by up to 80 per cent.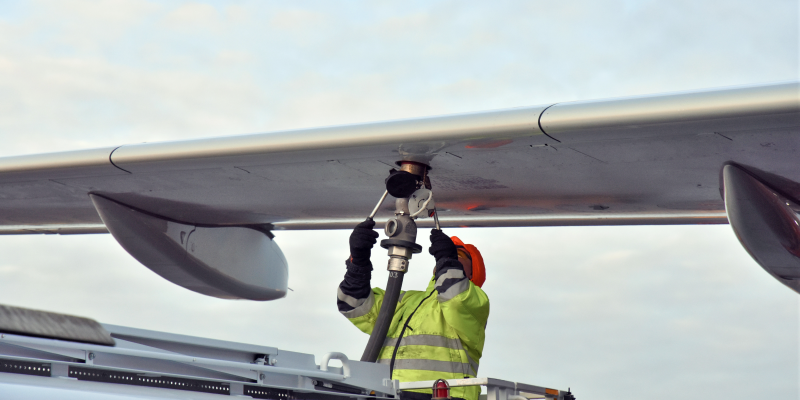 Since 2016, the airport operator Swedavia has been buying biofuel to offset the amount of fuel consumed by all of Swedavia's flights on official business during the year. Swedavia was the first company in the world to carry out such an effort and will now repeat it by ordering biofuel equal to the amount used on official business in 2017. Biofuel has already been used to fuel aircraft at four of Swedavia's ten airports, and today is the first time it is being used at Malmö Airport.
"The future of air travel is fossil-free and to achieve this, large-scale investments in bio aviation fuel are needed," says Peter Weinhandl, airport director at Malmö Airport.
As an airport operator, Swedavia wants to help make domestic air travel in Sweden fossil-free. This is possible but requires large-scale production and the use of bio aviation fuel. Today there is limited access to this fuel and the price is too high for it to compete with fossil fuels.
"With Swedavia pioneering the way and buying bio aviation fuel, we want to help increase demand – which is an essential requirement for large-scale production and a competitive price. Together we can achieve fossil-free domestic air travel in Sweden by as early as 2030," says Peter Weinhandl.
The initiative to purchase bio aviation fuel is part of Swedavia's extensive climate work. One of its objectives is zero emissions of fossil carbon dioxide from the company's own operations by 2020. Other important measures to achieve this are the use of electric and biogas-powered vehicles and a switch from energy provided by fossil fuel to only green electricity and heating.
Swedavia buys its bio aviation fuel through the economic association the Fly Green Fund. The fuel was produced by Altair and delivered by SkyNRG.