Björn Ranelid is Scanian of the Year – now he has his portrait at Malmö Airport
2023-10-10, kl. 10:21
Author, entertainer and cultural celebrity Björn Ranelid is Scanian of the Year 2023. On Monday, he was on site at Malmö Airport to unveil his portrait in the gallery "Welcome to my hometown", the exhibition in the airport's arrivals hall that has welcomed travellers to Skåne and Malmö for over ten years. − This means a lot to me, says Björn Ranelid.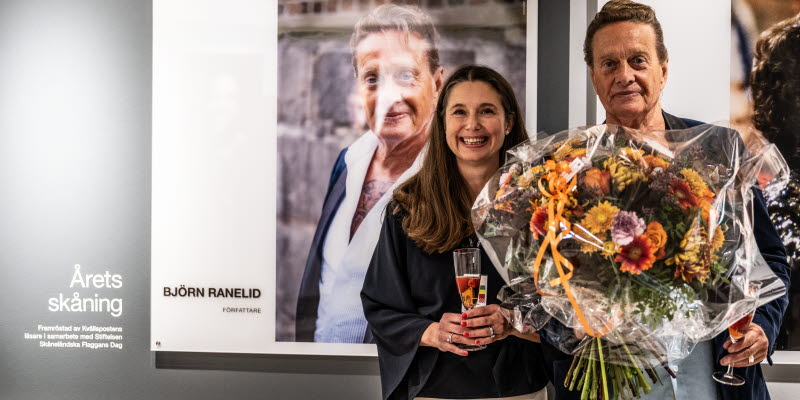 He has been nominated four times previously, and now, in connection with his 40th anniversary as an author, it was finally time for Malmö-born Björn Ranelid to achieve the Scanian of the Year award, voted for by Kvällsposten's readers in collaboration with the Scanian Flag Day Foundation. "A great ambassador for Skåne" and "Joybringer" are two of the motivations from Kvällsposten's readers. In addition to the award ceremony and celebrations in connection with Kristianstad City Festival in August, Björn Ranelid will now have his portrait hung at Malmö Airport.
And he's in good company. In the gallery "Welcome to my hometown" we find, among others, Måns Zelmerlöw, Tina Nordström, Therese Sjögran, Zlatan Ibrahimović and other successful Skåne profiles.
The Scanian of the Year award is presented annually by Kvällsposten and the Scanian Flag Day Foundation. Previous winners include Sven Melander, Andreas Granqvist, Rickard Söderberg, Nils Poppe, Hans Alfredsson and others.
− The person who is chosen as Scanian of the Year is a person who has contributed to good publicity for Skåne, is a source of pride for the region and has strong popular support. Björn Ranelid has been nominated several times before and it feels appropriate and extra nice to be able to pay attention to him this year as he celebrates 40 years as an author. "He is so worthy of this award," says Karin Öhrström, Airport Director at Malmö Airport.
− I am very proud of this award and I will commit myself to be eternally humble. I hold Sturup in high regard, I love coming out here. I love the whole area," says a moved Björn Ranelid.
Björn Ranelid made his debut in 1983 with the novel "The Surviving Gardener" and has since written more than 40 books, which together have sold over a million copies. He has received many literary prizes, including the August Prize for the novel "Sin" (1994) and is also an acclaimed cultural personality, entertainer and frequent lecturer and speaker.