Say your wedding vows, or renew your vows at the airport. With our wedding package, you can relax and let VIP services take care of all the practical details.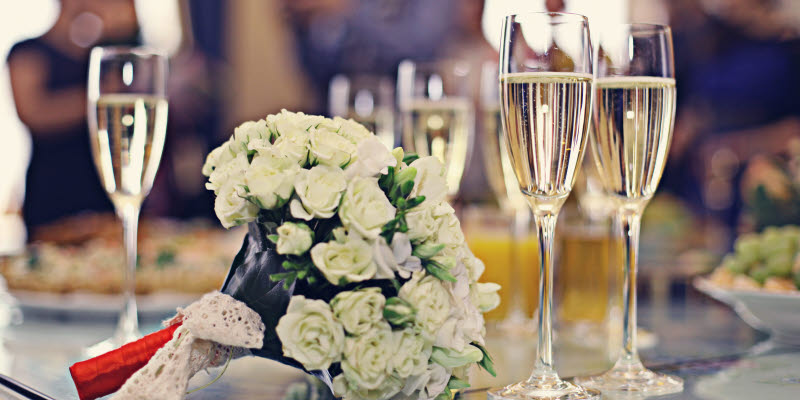 An airport representative meets you at the agreed time and place. After this, you are escorted – with or without guests – to your VIP room. We will also help you with check-in.
Friends and relatives are invited to attend – a maximum of 10 people are allowed in the VIP room.
What does it cost?
The wedding package includes:
A VIP room for two hours.
Help checking in baggage for the wedding couple (also available for accompanying children).
Witnesses. Please indicate when booking if you will not need witnesses.
1–8 friends and relatives are invited to attend the ceremony.
Parking for a maximum of 2 weeks for one car.
The basic price for a wedding is SEK 2,995 including VAT. Umeå Airport can also customise a package based on your wishes and needs.
Things to keep in mind before you book a wedding
Book well in advance so that you can arrange a certificate of no impediment to marriage.
Booking a wedding officiant
You are responsible for booking a wedding officiant and registering the marriage with the Municipality of Umeå (if you do not reside in the Municipality of Umeå).
Food and beverages
Celebrate your vows with good food and beverages. Refreshments are to be ordered at the latest one week prior to the wedding. You may not bring your own food or beverages.
Other services
Photography – someone from Airport Services will be happy to take pictures with your camera.
Music – available if you want to exchange your vows to music.
Payment
Payment is made on the premises at the latest on the day of the wedding. Payment by cash or credit/debit card is accepted.
Throwing rice
We are grateful if you would inform your guests that throwing rice, flowers or the like is not allowed in Umeå Airport's premises or outdoors.
Information and booking
Telephone: +46 (0)10 109 50 06, Monday-Friday, 8:00–17:00
E-mail: umeaairport@swedavia.se