Think of all the joy, the laughter, the tears and all the feelings that music creates. Enjoy some amazing flashbacks from our music history.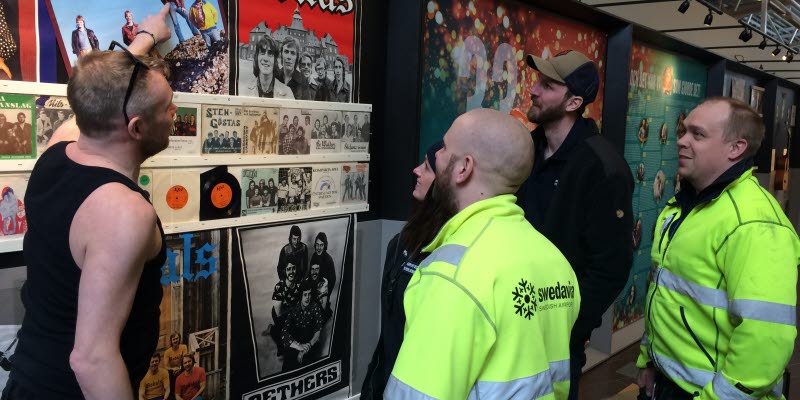 This exhibition is focused on the golden age, the late 60's into the early 80's and presents only dance bands from the county. The 70's is alive!
Patrik Zackrisson
Well-known professional musician, songwriter, artist and actor from Börtnan in Jämtland. Patrik leads the ever-repeated success of Östersundrevyn, and fronts the band Patrik's Combo. Probably one of Sweden's most hired entertainers, 30 years full-time, and a great lover of the most Swedish of Swedish; Dance band. Swedish dance bands are part of the music heritage and a large part of Jämtlands cultural history, when people for more than a century went to the dance venues to hang out, laugh, fall in love and especially dance.
Storsjöyran in Östersund - Sweden's oldest music festival
In Jämtland many say that you divide the year into two parts - before and after Storsjöyran. It may be true, for "Yran", as the festival is called, has a special place in hearts of the locals.At the end of July, the city center of Östersund turns into an exciting party. Around the city, scenes are built and the Storsjön harbor transformes into a restaurant town. Storsjöyran dates back to the 1960's and is Sweden's oldest music festival held in the middle of a city center. Every year around 40,000 people visit the festival. This year it's 28-29 July you need to book in your calendar.
Hamm & Nilsson
Hamm & Nilsson is Östersund's oldest music store and has been around for almost 100 years. The store has been at the center of Östersund's music life for several decades. Hamm & Nilsson already existed at the time of the 78 rpm stonecakedisc and have seen developments go forward, through cassettes, vinyl and CDs. Local and famous musicians have had this as a hotspot to talk music and hardwear. And of course listen to music!