Say your wedding vows, or renew your vows at the airport. With our wedding package, you can relax and let VIP services take care of all the practical details.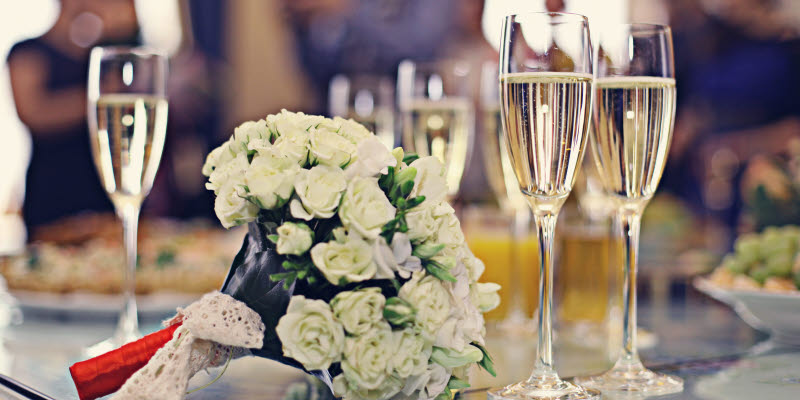 A representant from Luleå Airport meets you at an agreed time at the security control. You together with any accompanying children are assisted with your baggage, tickets, passport and check-in procedure. You are then guided to the VIP lounge, where the ceremony takes place. You are then able to remain there in the calm setting and enjoy something lighter to eat. Friends and family are of course welcome to participate – the VIP lounge takes a maximum of 10 people.
What does it cost?
The wedding package includes:
VIP lounge for two hours
Assistance with baggage check-in for the bridal couple and any children
Passing security control for the bridal couple and any children
Assistance organising witnesses on request
Up to ten people, including the bridal couple, are welcome
Parking, a maximum of two weeks for a car
Price: SEK 3,300 including VAT
To consider before booking a wedding
Booking a priest or registrar
You are responsible for booking a priest or registrar, but contact with the airport if you want to know which priests and registrars are certified to perform a wedding ceremony at Luleå Airport. You may also use your own contacts or requests.
Food and drink
Order food and drink at least ten days before the wedding. You may not bring your own food and drink.
Other services
Baggage storage
Photography – a representative from VIP services will gladly take photographs with your camera
Help with witnesses. State any requests in connection with booking
Payment
Payment is made on site on the day of the wedding at the Information desk. Charge cards or cash payment accepted.
Throwing rice
We appreciate if you advise your guests in advance that throwing rice, petals or anything similar is not permitted at Luleå airport's premises.
Booking
Telephone: +46 (0)10 109 49 50 Monday–Friday 09:00–16:00
E-mail: luleaairport@swedavia.se