Twenty-four artists from Norrbotten County will show their works in the exhibition Art Calendar of the Year.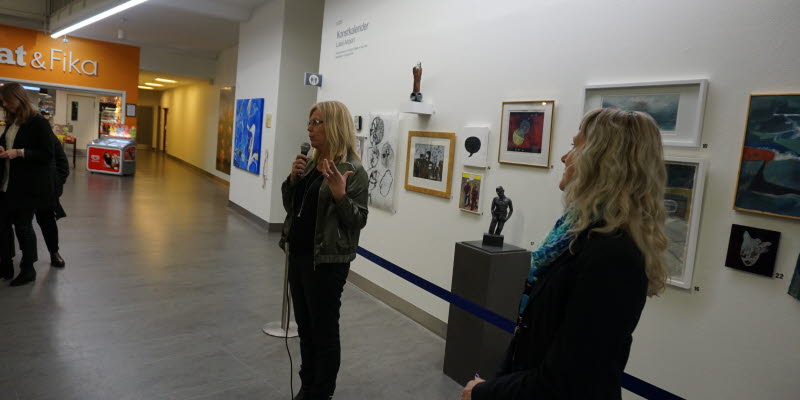 In the past, Luleå Airport has offered Christmas tree displays with a commercial theme in December, showcasing local companies and brands for public relations and charity purposes.
Swedavia has now chosen to instead work in partnership with the artist group Konstnärer i Norrbotten (KiN) and the regional advisory Centre for Visual Art in the Region of Norrbotten on the exhibition Art Calendar of the Year, which was inaugurated today and will run until January 8, 2018.
More than 60 artists submitted work to be included in the exhibition and 24 works were chosen by the jury, which consisted of Lotta Lampa, from the Centre for Visual Art in the Region of Norrbotten; Anders Alm, the chairman of KiN; and Anneli Lindgren, from Luleå Airport.
"The entire county is represented," says Lotta Lampa.
One criterion for inclusion was the price of the work, which could not exceed SEK 3,000, so that the art would not be too large for the setting.
"We only have one wall available, yet despite the price restriction, we have a few really large pieces as well. Then there are also some pieces that only cost SEK 750," Ms Lampa notes.
Otherwise, the most important aspects were the artistic quality and the variation in technique and materials. The Art Calendar offers everything from textiles and wood to sculpture and, of course, various techniques in painting and drawing.
Also included in the exhibition is a mirror, beautifully framed in carved wood, created by the Eritrean Tekeste Solomon, who lives in the Swedish village of Korpilombolo.
"This work comes from the local integration project Konsten att delta ('The art of participating'), in which we highlight foreign-born artists in the county," Ms Lampa adds.
The exhibition was officially opened by future municipal commissioner Lenita Eriksson together with airport director Ann-Christin Viklund.