Göteborg Landvetter first in the world with digitalised lavatories
2016-11-15, kl. 14:34
With intelligent lavatories and smarter cleaning, Göteborg Landvetter Airport will make restroom facilities more pleasant and increase both passenger and employee satisfaction. Göteborg Landvetter is the first airport in the world in which cleaning staff get real-time information about the need for cleaning and resupplies.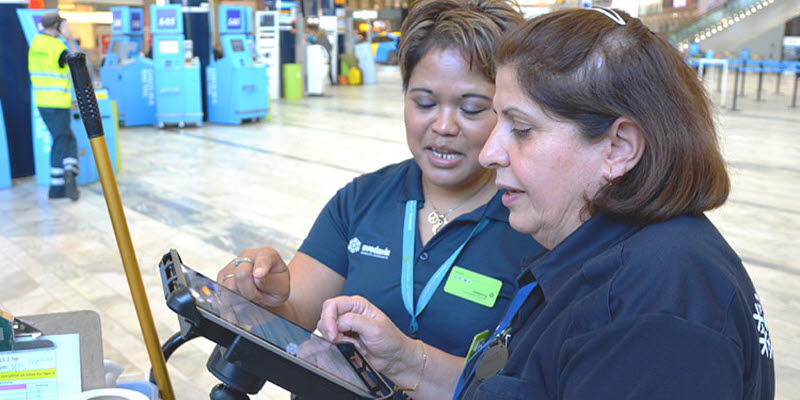 Like the world in general, digitalisation at the airport is advancing rapidly. Check-in by mobile phone, flight times via apps and digital boarding cards are examples of digital services that many passengers have already become accustomed to. Now this digital revolution has also come to the airport's lavatories, with the aim being to ensure travellers have an even better experience at the airport.
"The number of passengers at Göteborg Landvetter is growing sharply, so we must continue to be smart in our work to maintain, and preferably increase, the level of satisfied passengers, which is around 80 per cent today. We know that lavatories are in fact an important part of the passenger experience, and now we can also achieve higher quality in cleaning while at the same time make the job easier for our staff," says airport director Charlotte Ljunggren.
Using connected devices, cleaners will get real-time information about how much paper, soap and hand disinfectant are available at Göteborg Landvetter's 100 or so lavatories as well as about the number of users per lavatory. Integrating this information in digital cleaning plans enables a whole new logistics for cleaning – from scheduled cleaning rounds to needs-based cleaning. The result is better quality through efficiency, but it is also an investment in the cleaning staff's workplace environment.
"With this new system, we want to improve the everyday lives of our employees. We believe this will reduce stress by allowing greater oversight, and the work feels more meaningful when time can be invested in cleaning where it is actually needed," says Ann-Catrine Gobbato Henningsson, Facility Manager at Göteborg Landvetter Airport.
More about Swedavia's customer satisfaction
Swedavia's customer satisfaction is measured based on Airports Council International standards in what are known as Airport Service Quality (ASQ) surveys four times a year. The latest result for Göteborg Landvetter Airport for the rolling 12 months is 81 per cent satisfied passengers. Swedavia's target is 85 per cent satisfied passengers by 2020 at all of its airports.
Nagie Gaduang and Nanwa Khazi are shown in the photo working with the new digital system.