Thousands celebrate Bromma Stockholm's 80th anniversary
2016-05-23, kl. 10:25
Many people like the classic Bromma Stockholm Airport. Thousands of Stockholmers were on hand along with Swedavia airport staff on Saturday, May 21, when the airport celebrated its 80th anniversary.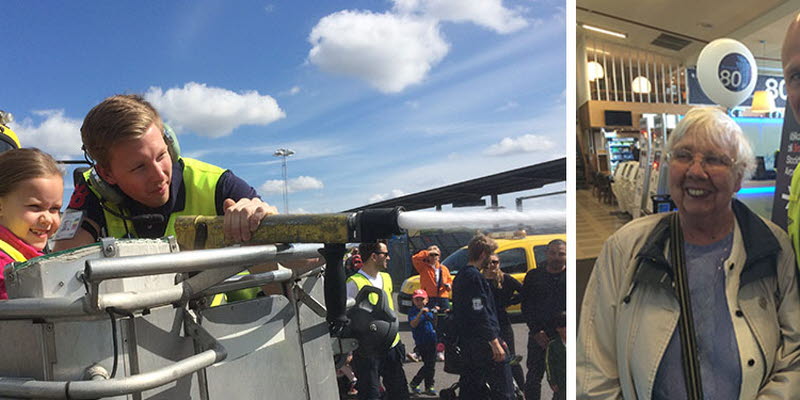 One person at the celebration was 87-year-old Marianne Gestman, who attended the airport's inauguration back in 1936.
"My mother and I cycled from Sundbyberg with a pot of coffee in our bike basket. I remembered there were lots of people and many propeller planes," says Ms Gestman, who was welcomed by the current airport director, Peder Grunditz.
"It's really great that so many people come here to see us at Swedavia. It shows the importance of Bromma Stockholm Airport to the city, and how many have a really positive relation to the city airport," Mr Grunditz notes.
Last year, the airport set a record, with 2.5 million passengers.
Guests at the 80th anniversary celebration had the opportunity to spray water from baskets on the de-icing vehicles and climb fire engines, while pilots from Braathens Regional Airlines greeted visitors in their aircraft cockpits and explained how to control a large flying machine. Various aviation associations as well as the police, Fire and Rescue Service, Swedish customs and the Red Cross showed visitors their operations. Visitors also had a chance to visit the air traffic control tower. Scheduled air traffic at the airport took off and landed while the celebrations were under way.
Photos:
Left: Marianne Kildal, 8 years old, from the Stockholm neighbourhood of Stora Mosse, tested the de-icing spray together with Swedavia's Robin Reinkind.
Right: Marianne Gestman, 87 years old, attended the inauguration of Bromma Stockholm Airport in 1936. She celebrated the airport's 80th anniversary together with airport director Peder Grunditz.