New bus transfer at Arlanda makes your trip smoother
2017-10-03, kl. 14:43
Now it's easier to get to your connecting flight at Stockholm Arlanda if you arrive in Terminal 4. Our new bus transfer takes you conveniently to our international terminals – Terminals 2 and 5 – without you having to go through the security checkpoint again.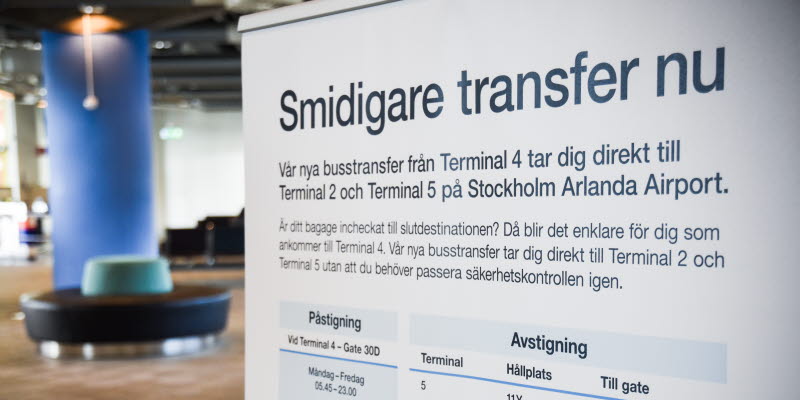 Today, Tuesday, October 3, Stockholm Arlanda Airport's new bus transfer debuts, making it easier for domestic passengers arriving in Terminal 4 who will continue their journey outside Sweden and have already checked in their baggage to their final destination.
Passengers board the bus at Gate 30D, and from there they can choose bus transport to Terminal 2 (Gate 61C) or to Terminal 5 via Gate 11Y, Gate 10C or the final stop, Gate F5. They can do this without having to go through the security checkpoint one more time.
The transfer buses are available Monday–Friday, 5:45 a.m.–11:00 p.m. and Saturday–Sunday 6:00 a.m.–11:00 p.m.