Founders of King and Mojang have new portraits in Stockholm Hall of Fame
2016-11-11, kl. 12:36
Two new portraits are being introduced today in the Stockholm Hall of Fame at Stockholm Arlanda Airport. They depict the founders of two computer game companies that represent the "Swedish gaming miracle" – King and Mojang. The´portraits in the Stockholm Hall of Fame represent the city's strengths and give travellers a more personal welcome to Stockholm when they arrive at the airport
with the greeting "Welcome to my Hometown."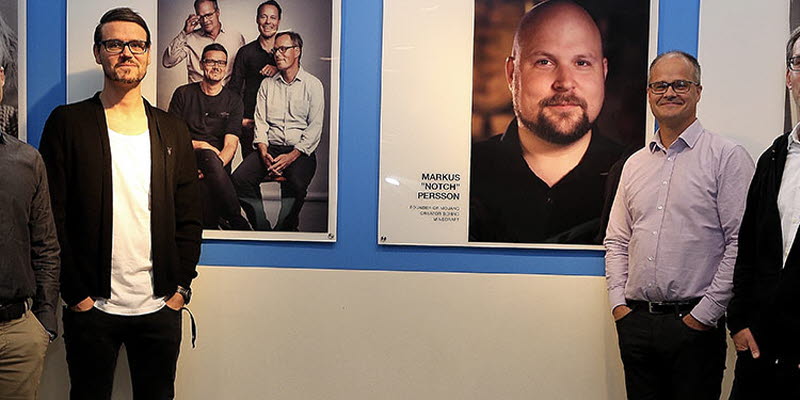 The Stockholm Hall of Fame consists of 93 portraits that represent Stockholm's strengths in a variety of fields such as sport, design, architecture, art, fashion, beauty, culture, entertainment, music, business and entrepreneurship. Falling into that last category are the founders of the Swedish computer game companies King and Mojang, who will all have their portrait displayed in Terminal 5. The Stockholm-based founders of King, which created Candy Crush Saga, are Sebastian Knutsson, Lars Markgren, Patrik Stymne and Thomas Hartwig. The founder of Mojang, which created Minecraft, is Markus "Notch" Persson.
"Stockholm Arlanda is Sweden's window to the world and the first thing that our international visitors encounter. With the Stockholm Hall of Fame, well-known Stockholmers welcome them by providing a personal picture of the city and what it stands for. We are really pleased that the success story of the Swedish computer game industry is now represented in our gallery by King and Mojang," says Linda Sjödin, Chief Communication Officer at Swedavia.
The selection of portraits on display is adjusted to the trends and interests of the time. Sweden is the world's leading country in computer gaming, and one in ten people on earth have played a Swedish game. Star Wars, Mad Max and Tom Clancy are some examples of popular brands that have come to Sweden to become a game in recent years.
The fact that the founders of King and Mojang will now have their portraits on display at Stockholm Arlanda is great recognition of computer games as culture and an export industry. Games like Candy Crush Saga and Minecraft give pleasure to hundreds of millions of players around the world. "They have not just put Sweden on the map – they have changed the idea of what games can be," says Per Strömbäck, spokesperson for the trade partnership Swedish Games Industry.
The Stockholm Hall of Fame was inaugurated in 2006. In order to be included in the gallery, people have to have been born, reside or now work in Stockholm. The Hall of Fame consists of 93 portraits and is located in the Terminal 5 and Terminal 2 baggage halls at Stockholm Arlanda.