A smart start to your holiday: Five tips to make your journey easier
2019-06-10, kl. 10:00
During the holidays, air travel increases as many people take the opportunity to fly elsewhere in Sweden or abroad. Perhaps you'll be flying from Stockholm Arlanda Airport? Here are five smart tips that'll save you time and make your visit to the airport as smooth and comfortable as possible.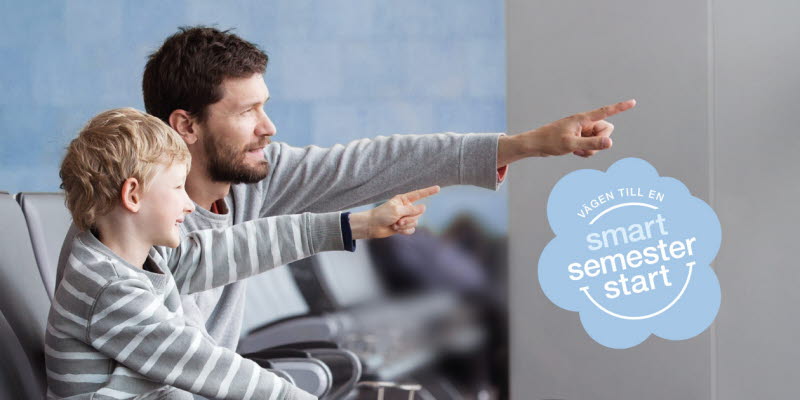 1. Swea chatbot
Follow your flight and get notifications sent straight to your mobile phone if there's a change in details. You can also get answers to questions about services at the airport, such as "Where are there restaurants that serve gluten-free food?" Send a message via the airport's Facebook page or using the Messenger app (search then, for instance, for "Stockholm Arlanda Airport"). You can also click on the Messenger icon on the airport's website. Swedavia's Swea chatbot answers right away 24 hours a day.
2. Come to the airport well in advance
When there are a lot of people flying out at the same time, it's a good idea to be at the airport well in advance. Ask your airline what they recommend for your particular flight. Keep in mind that there may be traffic queues or delays in public transport.
3. Attach your bag tag
One of the most common questions that passengers ask is how to attach the bag tag to their baggage for self-check in. If you're not sure how, check out this video: How to attach your bag tag.
4. Waiting time at the security checkpoint
Keep a check on the current waiting time at the security checkpoint, which is shown on the airport's website, in Swedavia's app and on monitors at the security checkpoint. You can also ask that question to Swedavia's chatbot (see above). 
5. Time guarantee at restaurants
Many restaurants at the airport guarantee how much time it will take from placing your order to having the food in front of you at your table. Ask the restaurant what time guarantee they give. See Stockholm Arlanda's restaurants.
Here you find additional smart tips.
Swedavia wishes you a pleasant journey