Finding your way at the airport
Information about terminals and maps of the airport.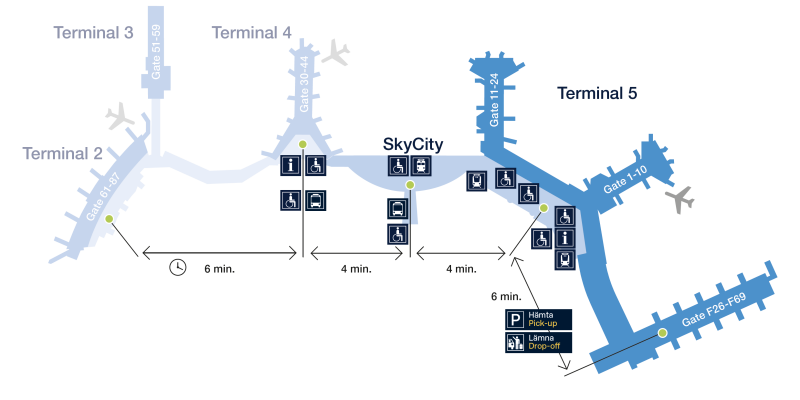 Temporary changes that may affect passengers

All air traffic has been relocated to Terminal 5
All air traffic has been moved temporarily from Terminals 2, 3 and 4 to Terminal 5.
Everyone flying from Stockholm Arlanda Airport is being directed to Terminal 5.
Terminal 5 non-Schengen traffic has been moved from Gates 11-24 to Gates F58-F69.
All baggage is to be picked up in Terminal 5.
Buses
All bus traffic at Terminal 5 has been moved to Terminal 4.
The walk between Terminals 4 and 5 takes about 5 minutes.
Local SL buses stop and depart from SkyCity.
Bus stops at Terminal 2 are unchanged.
The Tullvägen bus stop is out of service.
Read more about bus service here.
Pick up and drop off
To pick up or drop off passengers, follow the signs towards P Ankommande/Avgående (parking area for arriving/departing passengers)
It is no longer permitted to drive up to the entrance at Terminal 5 to pick up or drop off passengers.
It is about 400 metres between the P Ankommande/Avgående parking area for arriving/departing passengers and Terminal 5.
It is also possible to park for short stays in the multi-storey car park closest to the terminals.
Shops and restaurants
There is currently a limited offering of restaurants, shops and other services open at the airport.
Those premises that are open have adjusted their times to flight departures.
Check the relevant page to see which premises are open: Shopping, Food & beverage and Services.
Maps over SkyCity, Terminal 4 and 5
Arlanda Central station
Arlanda Central station is situated in SkyCity, the area between the terminals 4 and 5. From here you can take the commuter trains and long-distance trains to and from Stockholm Arlanda.