Swedavia presents a positive photography exhibition from Doctors Without Borders in collaboration with Christian & Carl-Johan Brandt.
The exhibition incorporates photos from the brothers' second book, Face the Reality, which captures and showcases Doctors Without Borders' HIV efforts in South Africa. All income generated by the book, which also raises public awareness about the project, is being donated to Doctors Without Borders.
Being infected with HIV was long considered a death sentence. Today there are medicines that enable people to live a long, full life. Nonetheless, millions of people are still dying of AIDS because they do not have access or cannot afford the medicine they need. One United Nations millennial development goal is to end the AIDS epidemic by 2030, but to achieve this many more people must have access to testing and treatment.
In 2011, Doctors Without Borders started the project Bending the Curves in the South African province of KwaZulu-Natal. The project involves testing several innovative prevention methods while increasing access to testing and treatment. The goal is not just to have people survive and have a chance to lead a normal life but also to have an impact on the epidemic itself.
The brothers Christian and Carl-Johan Brandt are the force behind the exhibition. Together they launched the movement WCAC (We Can All Contribute), through which they want to highlight how everyone can contribute to a better world. The basic idea is that everyone can help in some form, and the goal is to inspire people to follow their initiative.
The exhibition is funded by the Swedish Postcode Lottery and was produced by Firewater.

The first treatment room
In 2000, MSF began providing ARV treatment to a small number of people living with HIV/AIDS in projects in Thailand, South Africa and Cameroon. In February 2000, MSF and partners opened a 'low profile' clinic in Khayelitsha township, Cape Town, to treat infected mothers and their partners. The clinic was soon overflowing. This is the first treatment room and it is still operational today.

Bending the curves
MSF's project is aligned with South Africa's national strategic plan (2015-2016) for HIV, sexually transmitted diseases (STD) and tuberculosis (TB). Using innovative methods, the goal is to lower HIV and TB incidence by 50%. Offering HIV testing via mobile test sites is one such method. Musa Ndluvo, advocacy manager for MSF in Eshowe, explains: "it should be so easy to get tested that you have no excuses. You should be able to do it during your lunch break."

Proud faces
Graduation day for SHINE students. Despite the fact that about a quarter of the adult population in KwaZulu-Natal is living with HIV the stigma surrounding the disease remains high. This makes many people avoid getting tested or seeking treatment. MSF works in collaboration with the group SHINE to spread information about HIV/AIDS and how to get treatment. Among other things, SHINE and MSF organize meetings for HIV positive people where they can share their experiences. Representatives from SHINE also participate in radio shows to talk about HIV/AIDS and respond to questions from the listeners.

Bringing care to the patient
Many people in KwaZulu-Natal live in the countryside, far from medical centers where testing and treatment is available. Therefore, MSF trains health workers who live and work in the rural villages. They make regular home visits to residents in the area and offers HIV testing, counseling and information. The people who test positive is referred to the nearest health center and linked to health so they can be put on treatment when they need it.

Tell me the truth, tell it to my face
Sikhakhane waits inside one of the MSF clinics for the moment of truth - the hiv test result. The test takes about 15 minutes and the result is delivered shortly after. While waiting for the test, the MSF Counsellor provides information on how to protect oneself from sexually transmitted infections. When Sikhakhane comes out from the clinic he looks relieved – the test was negative. This means that he can now get circumcised. MSF arranges so called circumcision camps for men and boys as the risk of transmitting the virus during intercourse decreases with 60 per cent. But even after the incision it is important to use condoms.
Meet Andile Madondile – HIV positive and activist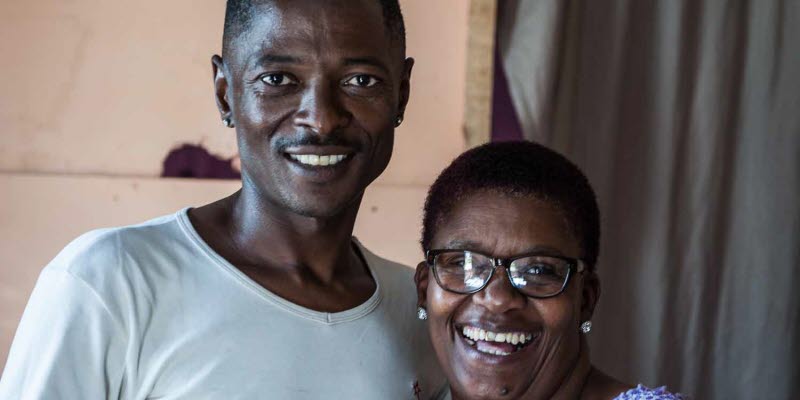 I found out my HIV status in late 2004 when I got very sick with stomach pains. I didn't believe the nurse when the results came back positive, so I went to another clinic for a test. When the results came back positive as well, I went home and stayed there for a week.
To be honest, thinking of my 3 year old daughter at that time and my family, it was very difficult to think that one day I would die of HIV/AIDS. But I started ARV treatment on the 8th of March 2005, and since then I have never looked back. I'm still on treatment and my viral load is undetectable.
I got involved with the Treatment Action Campaign – an organisation working closely with MSF – in 2005 after I heard one of their Treatment Literacy Educators in the clinic waiting room explaining to us HIV patients about the disease. I told the educator I wanted to be involved in TAC and do the same thing she was doing. TAC has changed me to become a better person because I never thought I would become interested in health-related issues, but now it is in my veins. I even went back to college to study for a Diploma in Management. In 2013 I graduated as a Pharmacy Assistant.
I would say I'm living a positive life with HIV and I don't have any challenges regarding my status. I have been supported by my wife, family and even the community at large. Although there are still challenges such as stigma, it is not the same as it was 10 or 15 years ago when there was not even treatment for people with HIV and they were dying like flies. The interventions of MSF and TAC have saved so many lives in South Africa, and if it were not for them I would not be alive today.
I just wish MSF had arrived earlier, because then maybe my elder brother would still be alive now.