Stockholm Arlanda is about to become Scandinavia's leading airport. More and more passengers are flying via Stockholm Arlanda, and in 2015 we set a record for the fifth straight year, with 23.2 million passengers. The trend also indicates there will be almost 40 million passengers by 2040.
What is included in the development plans?
We are developing Stockholm Arlanda in order to handle almost 40 million passengers by 2040, compared to 25 million today. Below, we tell you more about what is happening.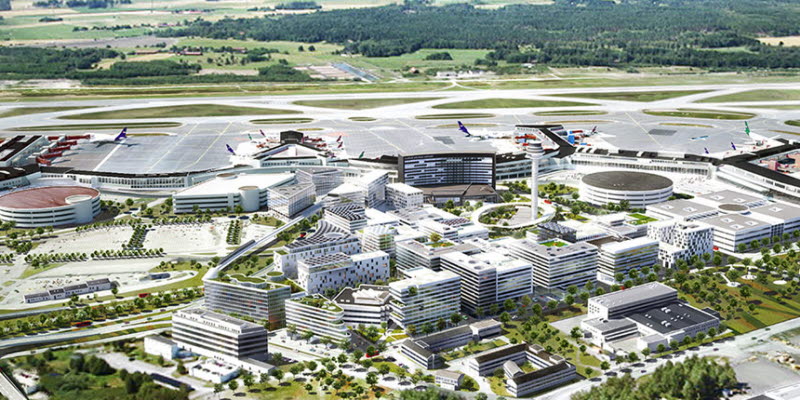 The development plans include a number of different projects to increase terminal capacity and enhance the passenger experience. Among the changes, the walkway between the areas for Gates 1-10 and 11-24 in Terminal 5 will be renovated to improve the passenger flow. More aircraft parking stands will be built, together with a consolidation centre for all shops and restaurants.
A new pier in Terminal 5 will also be built, which means that the current airport maintenance area needs to be relocated and therefore rebuilt. We also need to increase the capacity of the baggage handling system in order to manage the large increase in passenger volume. In addition, a new security checkpoint will be built.
We are not just developing the terminals; a brand-new airport city – Airport City Stockholm – will also soon start taking shape around Stockholm Arlanda, with its perfect location between Stockholm and Uppsala, close to railways, roads, air travel facilities and the rest of the world.
Airport City Stockholm will consist of six districts, each with its own purpose. The first office complex to be built in the SkyCity district is Office One.
Why are we developing Stockholm Arlanda right now?
Stockholm Arlanda is Sweden's gateway to the world and is set to become the world's gateway to Scandinavia. We are now making preparations to handle almost 40 million passengers by 2040.
More and more people are choosing to fly to and from Stockholm Arlanda – in 2016, close to 25 million passengers passed through the airport. Over the past two years, passenger volume has increased by 3 million. It is estimated that almost 40 million people will travel via Stockholm Arlanda in 2040.
Expansion and further development are needed to handle the growth
In order to handle this growth, we need to increase our terminal capacity. Terminal 5 will be extended with an additional pier. Baggage handling, check-in and security screening will have greater capacity and flexibility. The commercial offering will also be enhanced, and environments at the airport will be modernised.
Terminal 4 will be further developed into an efficient terminal for domestic traffic. In the long term, Terminal 2 will also be expanded with one or two piers. With these changes, the airport will be prepared to handle growth even after 2040.
A new airport city will soon start taking shape
But we are not just developing our airport operations. A brand-new city is taking shape around the airport, as is the super-hub for mass transit that we want to create at Stockholm Arlanda.
Swedavia has worked for a number of years with preparations to enable the introduction of US Preclearance at Stockholm Arlanda Airport. In November 2016, Sweden and the US signed a bilateral agreement on this matter. In order to proceed with the introduction of US Preclearance at Stockholm Arlanda Airport, both legal and financial conditions are required – that is, a decision by the Swedish parliament and a sustainable financial solution for the investment in the facility and for the operation of this service.
In the past year, the financial conditions have deteriorated, which means that there is at present no sustainable financial solution that will enable the project to continue. The change in financial conditions is largely due to the introduction of a national aviation tax in Sweden, increased investment costs for the facility and a change in financial conditions for the additional security screening associated with US Preclearance. All in all, as a result of these changes, the per passenger cost for using this service will most likely be too high relative to the expected willingness to pay, so there is consequently no sustainable financial solution. Because of this, it is not possible to say at the moment when or whether US Preclearance can be introduced at Stockholm Arlanda Airport.
Swedavia continues to work together with all stakeholders in order to increase access to Sweden and create smoother flows for our passengers while maintaining a high level of safety and security.
Terminal 5 is our largest terminal with the greatest number of passengers. Almost 70 per cent of all passengers who travel via Stockholm Arlanda use Terminal 5. The project includes a brand-new central security checkpoint and a new area for shopping and eating.
A brand-new security checkpoint will be built. All passengers departing from Terminal 5 will use the same security checkpoint, and once they go through it there will be a brand-new area for shopping and eating.
It will feel modern, airy and inviting. A nice mix of permanent shops with temporary, seasonal pop-up stores and self-service stations will be offered, so you can conveniently shop and get something to eat. No matter whether you have plenty of time to enjoy food, a drink and some shopping or need to get quickly to your flight, you will be able to find something that suits you – with something for every budget and every taste.
It should feel like you are flying out of a Scandinavian airport but at the same time you experience being in an international setting.
New pier
In order to handle the increased demand for more intercontinental routes, a brand-new pier will be built in Terminal 5.
The new pier is designed to handle more passengers as well as larger aircraft models, for instance the Airbus A380. The trend is for airlines to have larger planes that carry more passengers. The new generation of aircraft are also quieter and more fuel-efficient than older ones, which helps keep down increases in noise and emissions.
It will be smooth and easy to go between the area for Gates F26-F69 today and the new pier – both for departing and arriving passengers.
Passengers will encounter an inviting, inspiring environment, with plenty of seating. Before you board the aircraft, you will be able to charge your phone, work a bit or watch the planes and daydream a little.
The world's largest aircraft will be able to land at Stockholm Arlanda
In 2017, Stockholm Arlanda will be able to handle larger aircraft, so-called Code F aircraft. These include the world's largest plane, the A-380, which can carry 800 passengers.
Two gates are being prepared in the first phase. After this, the new pier will also be able to handle these aircraft. Read more about the new pier here.
So far, Runway 1 was reinforced in 2015 in order to accommodate the new, heavier planes.
Three-armed passenger bridges planned
To increase efficiency during boarding and disembarking, terminal renovations and a larger number of bridge extensions are needed. A solution with three-armed passenger bridges will result in an efficient, smooth flow inside the airport.
Baggage and check-in will also be modified – all in order to produce as efficient and smooth an experience as possible.
New airport maintenance area
In order to renovate Terminal 5 and construct a new pier, the existing airport maintenance area will have to be relocated and a new one built.
The new airport maintenance area comprises a total of 13 new buildings, including a field garage, a bus garage, a facility for cleaning and de-icing vehicles, canopy structures and storage facilities. Space will be provided here for a new workshop for vehicles as well as workshops for runway lighting, day markings and field operations together with offices and staff facilities.
New utilities including district heating and cooling, electricity, water and waste will be installed. The new airport maintenance area is designed to have a clear environmental profile, including environmental certification of the new buildings and infrastructure.
The work will be under way from the summer of 2016 to the autumn of 2018.
Renovation of area for Gates 11-24 in Terminal 5
In order to handle ever larger passenger flows, we also need to renovate the area for Gates 11-24, on Levels 3 and 4 in Terminal 5.
Arriving non-Schengen passengers will experience an improved transfer process, faster flows, and smoother passage through the security checkpoint and border control. Basically, the process should feel smoother and more efficient.
New baggage handling system in Terminal 5
We will now build the baggage handling system of the future in Terminal 5.
In order to handle the large increase in passenger volume, one that is already under way and will continue in the years ahead, we must increase capacity in the baggage handling system. The focus is on finding flexible solutions of the future.
This project will assess the baggage handling system for both departing and arriving passengers in Terminal 5, including the new pier. Passengers will have a positive experience with smooth flows. People who work there will have a good workplace environment.
A new, modern baggage hall for arriving passengers will also be built.
Environmental concerns during the renovation
Stockholm Arlanda's climate efforts are certified today at the highest level of a European programme that assesses how airports work to reduce their climate impact. One area in focus is reduced carbon dioxide emissions.
Always a focus on increased energy efficiency
As biofuels replace fossil fuels in the airport's buildings and vehicles, other measures to increase energy efficiency are continuously being carried out. The airport also implements measures to ensure that as few people as possible are disturbed by aviation noise, water that runs off the airport runways is cleaned, glycol used to de-ice aircraft before take-off is collected, and all waste is sorted and recycled.
But what will it be like now in terms of noise and emissions given the large increase in passenger volume? There will certainly be more aircraft, but the number of aircraft movements – that is, take-offs and landings – will not increase as much as passenger volume. This is partly because airlines are getting better at filling planes and partly because the trend is toward airlines using larger aircraft that carry more passengers instead of adding more departures. The new generation of aircraft are also quieter and more fuel-efficient than older ones, which also helps to keep down increases in noise and emissions.
The environment and Stockholm Arlanda's development plan projects
What are we doing at Stockholm Arlanda in terms of our development plans? The new buildings being constructed are subject to stringent environmental requirements. The buildings at the airport are heated by district heating produced from biofuel. Swedavia also buys green (renewable energy) certificates to prove that all electricity used at the airport is renewable.
These are Swedavia's environmental requirements for buildings:
The energy performance of buildings must be at least 25% better than current regulatory requirements for construction.
Building materials must have a limited environmental impact and be easy to separate to facilitate recycling.
Building materials must be approved by the Swedish building materials assessment programme
Byggvarubedömningen, which assesses their environmental impact.
Wood products must come from certified forests; no wood products from rainforests are allowed.
Waste in the production of building materials must be prevented.
Preventive measures are to be taken to minimise the impact on surface water and groundwater.
Buildings must have water-saving fixtures to reduce water use.
Environmental certification further reduces environmental impact
Stockholm Arlanda's aim is to environmentally certify a number of new buildings, which will further reduce their environmental impact. This will result in better indoor environments, more efficient energy use, reduced use of materials containing toxic substances, and reduced water use and waste. Certification entails a third party examining and approving the suggested rating.
Read more about Swedavia's environmental work (new window)