The environmental impact of air transport

Biofuel? Yes please!
Already today, aircraft can run on biofuel. But more is needed, ideally produced in Sweden so it doesn't have to be transported a long way just to get here.

Low can also be lower
Aviation represents 5 percent of Sweden's total carbon dioxide emissions. We are working concertedly to reduce this figure with biofuel, new aircraft and more efficient ways of flying, for example.

If cars could fly
The most modern aircraft consume far less fuel than their predecessors. They now use as little as 0.03 litres/kilometre per passenger. Just like a small car – only much, much faster.

Filling up with electricity
The development of hybrid aircraft is in full swing. Just like hybrid cars, they can run on both electricity and conventional fuel. According to aeronautics experts, this could cut emissions by around 40 percent.
The Swedish transport sector needs to be fossil-free. Over the past 40 years, air transport has become 70 percent more fuel-efficient and accounts for about two per cent of global emissions of fossil carbon dioxide. But since air travel is growing, the industry needs to work hard to further reduce emissions.
At high altitude, air transport also contributes to climate change through nitrogen oxides, water vapour and contrails. There is still great uncertainty about how this impacts the climate, but Swedavia has initiated a study on this topic directed by IVL Swedish Environmental Research Institute and funded by the Swedish Transport Administration. The UN Intergovernmental Panel on Climate Change estimates that air transport accounts for about two per cent of the total manmade climate impact.
In Sweden, air transport accounts for four to five percent of total carbon dioxide emissions. The transport sector as a whole is responsible for about one third of Swedish carbon dioxide emissions.
Did you know that:
Speeding on Swedish roads produces more fossil carbon dioxide emissions than domestic air transport. 
Air transport has become 70 percent more fuel-efficient over the past 40 years.
Global environmental targets for air transport
Because air transport is part of a global industry, its environmental impact is handled in a global context. Air transport is the first worldwide industry to agree to long-term global environmental targets:
Air transport emissions of fossil carbon dioxide shall be reduced 1.5 percent per passenger and kilometre to 2020. After this, growth in air travel shall be climate-neutral.
Actual emissions of fossil carbon dioxide in 2050 shall be half the level in 2005.
In October 2016, countries around the world signed a global climate agreement, the Carbon Offsetting and Reduction Scheme for International Aviation, or CORSIA. Negotiations have been under way for many years, and for the first time in history an entire sector reached an agreement on a global instrument to handle its environmental impact.  As a result of this roadmap, emissions for air transport will not exceed the level in 2020 and will be half the number in absolute terms by 2050. This target is in line with the emissions allowable to achieve the UN's emissions target for 2050.
On the way to a greener air travel
The air travel industry faces a major challenge: meeting continued strong passenger growth while continuing to reduce its greenhouse gas emissions.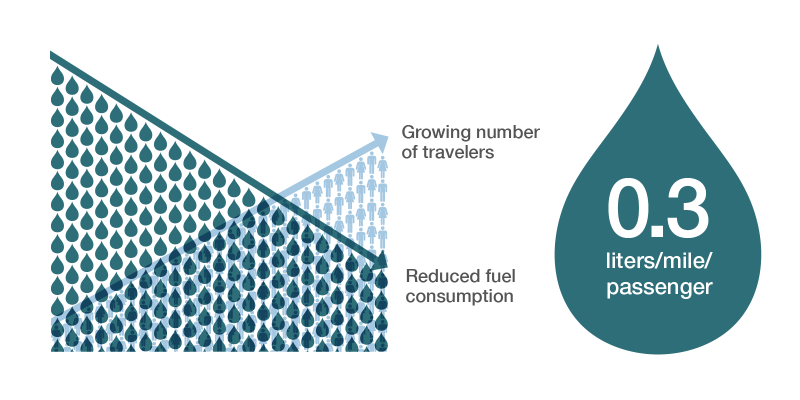 Many efforts are being made to reduce the environmental impact of air transport, in particular by improving the environmental performance of aircraft. European aviation research and the air transport industry expect that by 2020 aircraft will be developed with 50 percent lower fuel consumption and carbon dioxide emissions, 80 percent lower nitrogen oxide emissions and half the noise levels compared to aircraft manufactured today.
Compared to aircraft from the 1960s, today's aircraft are 70 percent more fuel-efficient per person-kilometre. The most modern aircraft use about 0.03 litres of fuel per passenger-kilometre.
Rapid advances in alternative fuel for commercial air traffic are also being made. Bioaviation fuel can be made from different renewable materials, such as forest and food waste.
In the Nordic countries, biofuel is made from used cooking oil, which reduces carbon dioxide emissions by at least 80 percent compared to the same amount of fossil aviation fuel.
One biofuel with great potential is algae fuel, which yields a relatively large quantity of fuel compared to other plants. Because algae are water plants, they do not compete for farmland and can grow relatively quickly under the right conditions.
In Sweden, by-products from the forestry industry are the material currently of greatest interest. Biofuel can be mixed with today's fossil fuel and will constitute a significant share of this mixture as early as 2020.
You can read more about the air transport industry's international climate work here.
Together with Nordic airlines, airports, government authorities and aircraft manufacturers, Swedavia is pushing for an increased supply of biofuel to the industry. The work is being carried out in part under the framework for the Nordic Initiative for Sustainable Aviation (NISA). Swedavia is also a partner in the economic association the Fly Green Fund, whose aim is to increase demand and access to biofuel in the Nordic countries.
Another factor contributing to lower fuel consumption and emissions is green flights, a three-part concept that consists of green departures, straight flightpaths and green approaches. This is being developed in a partnership between Swedavia, air traffic management (the Swedish Civil Aviation Administration) and the airlines.
Did you know that: The most modern aircraft use about 0.03 litres of fuel per passenger and kilometre.
The concept of green flights consists of green departures, straight flight paths and green approaches.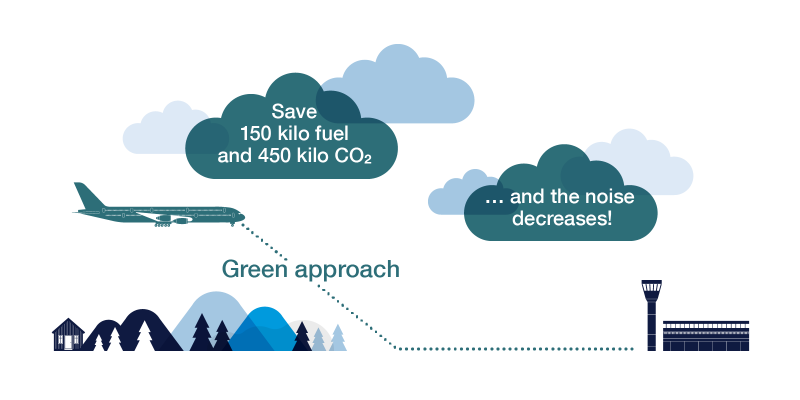 A green approach entails the aircraft continuously descending from its cruising altitude down to the landing runway. Because the descent is continuous, hardly any jet thrust is needed, which saves fuel and reduces emissions.
Since the aircraft's computer has continuous contact with equipment on the ground, the entire flight is adjusted based on the exact landing time. Together the air traffic controller and pilot can plan an even approach – the plane glides down instead of step-by-step, as is the case today. An approach like this can save up to 150 kg of fuel and 450 kg of carbon dioxide emissions. Noise is also reduced since the aircraft does not need to use engine thrust at lower altitudes.
Green approaches have been developed at Stockholm Arlanda Airport in a partnership between Swedavia, international air traffic control bodies and SAS. So far, it has only been possible to carry out green approaches during light traffic since green and normal approaches cannot be used together during heavy traffic.
Shorter flights
Green Connection is a project aimed at optimising and shortening the entire flight. In this project, trials have been carried out in which the flight path between Stockholm Arlanda and Göteborg Landvetter Airport was shortened using modern satellite-based technology.
Questions and answers about biofuel
---
Meet Lena Wennberg Environmental manager at Swedavia

About Lena Wennberg
Job: Environmental manager at Swedavia
Employed at Swedavia since... I started in 1998 in the Stockholm Division as environmental manager (Arlanda and Bromma) when LFV operated the airport.
My environmental interest was sparked ... when I was little, I was in Skogsmulle (an association that promotes outdoor activities for young people), I was a scout and I've always loved animals.
Best suggestions for a more sustainable everyday life: use green energy in your home, eat more vegetables, eat local/organic, sort your waste and take mass transit. Air travel is a mode of mass transport, and people can choose to fly on biofuel.
Other emissions from air transport
Aircraft engines emit carbon dioxide, nitrogen oxides, hydrocarbons, soot, particulate matter, carbon monoxide and sulphur dioxide.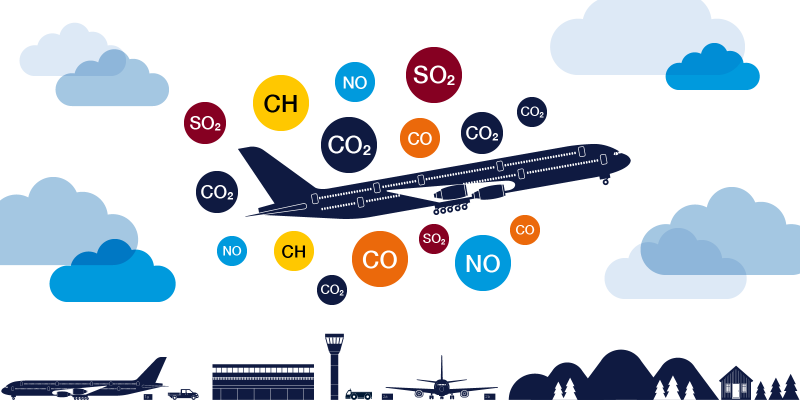 Sometimes people can smell aviation kerosene at airports. Sulphur compounds in the aviation kerosene, so-called mercaptans, have a penetrating, intensive and characteristic smell in very small concentrations. However, mercaptans are not toxic in the low concentrations found at Swedavia's airports.
World leader in operating climate-smart airports
"We will not only be a good role model. We will also be involved in driving development in a sustainable direction." Jonas Abrahamsson, CEO.
All of Swedavia's airports are certified at the highest level of Airport Council International Europe's standard for the climate work of airports. Stockholm Arlanda Airport was the first airport in the world to receive the highest certification. Certification means that all of Swedavia's airports continuously reduce fossil carbon dioxide emissions from their operations, that they help other operations at the airports to reduce their emissions and that Swedavia offsets the emissions it has not yet reduced. As a result of its certification and work to switch to renewable aviation fuel, based on this standard Swedavia is the airport group that has come furthest in the world in its work to develop climate-smart airports.
ACA klimatmärkning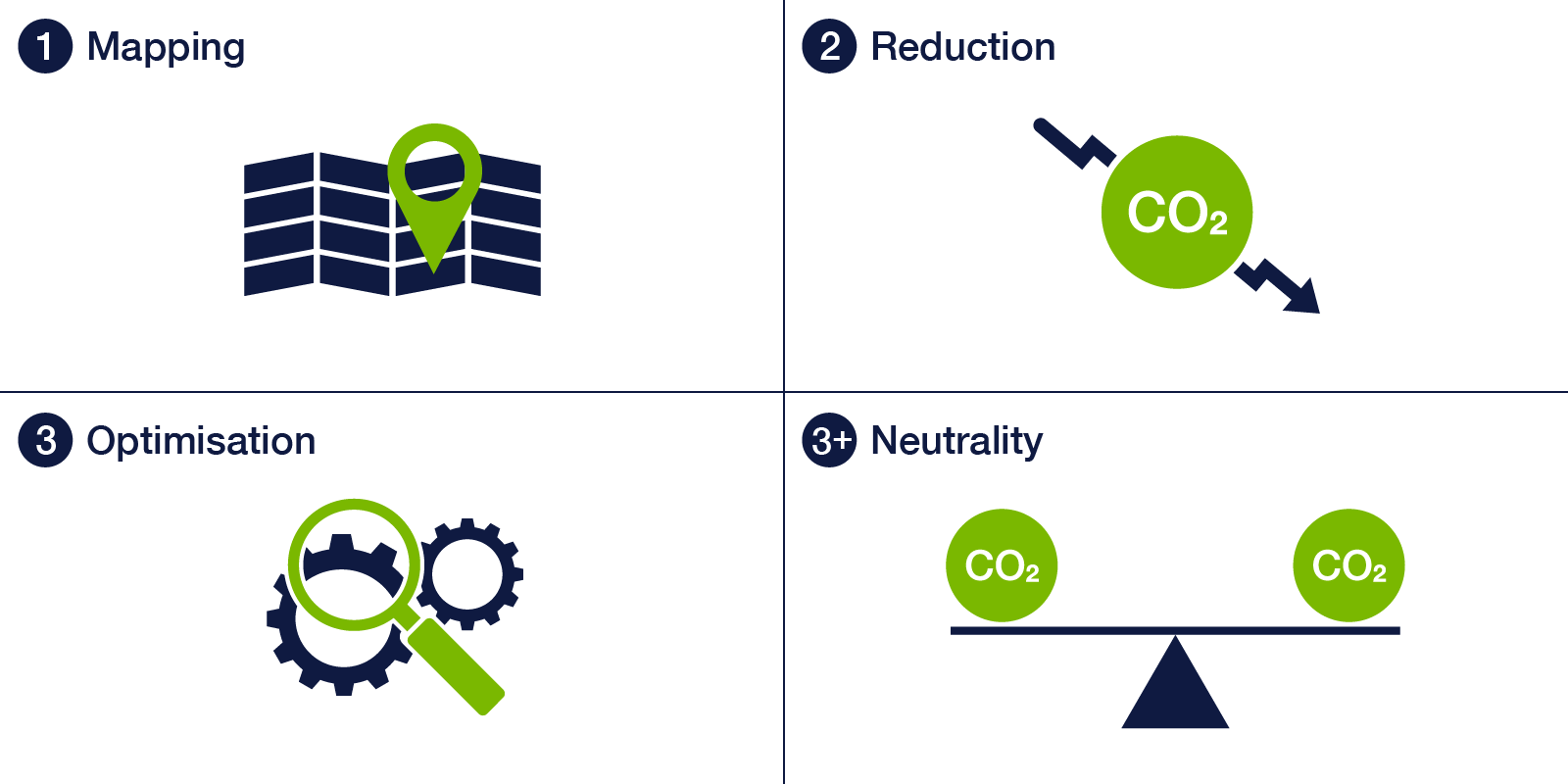 Different levels:
Mapping, Reduction, Optimisation and Neutrality. There are four levels in ACA climate certification at which the work of the airports is assessed and graded. Certification at the highest level, 3+, requires the airport to be entirely climate-neutral in terms of emissions from its own operations. When an airport has complied with the requirements for the highest level, it means that all other steps on the scale have also been complied with.  
Level 1 (Mapping): Means that the airport shall determine the emission sources it has control over, Scope 1 or 2, under the Greenhouse Gas Protocol. The airport shall calculate carbon dioxide emissions in accordance with ISO14064 standards and compile a carbon footprint report. The report shall be verified by an independent auditor.
Level 2 (Reduction): All of the above plus the airport shall provide evidence that it has effective carbon dioxide procedures and that a reduction was made in carbon dioxide emissions. Efficient carbon dioxide procedures include showing that the airport has a low carbon policy, allocating responsibility, monitoring fuel and energy consumption, communicating with relevant stakeholders, setting carbon/energy reduction targets and training staff.
Level 3+ (Neutrality): All of the above plus the airport offsets the remaining emissions it has control over (Scope 1 and 2) that it has not reduced on its own. Offset is done by investing in projects in developing countries through which a corresponding amount of carbon dioxide is absorbed.
More information about the programme
The organisations behind the Airport Carbon Accreditation programme are Airport Council International Europe (ACI Europe), ACI Asia-Pacific, ACI Africa and the consultancy firm WSP Environment & Energy. The programme complies with the Greenhouse Gas Protocol, the international standard develop by World Resources Institute (WRI) and the World Business Council for Sustainable Development (WBCSD).
"We will not only be a good role model. We will also be involved in driving development in a sustainable direction." Jonas Abrahamsson, CEO.